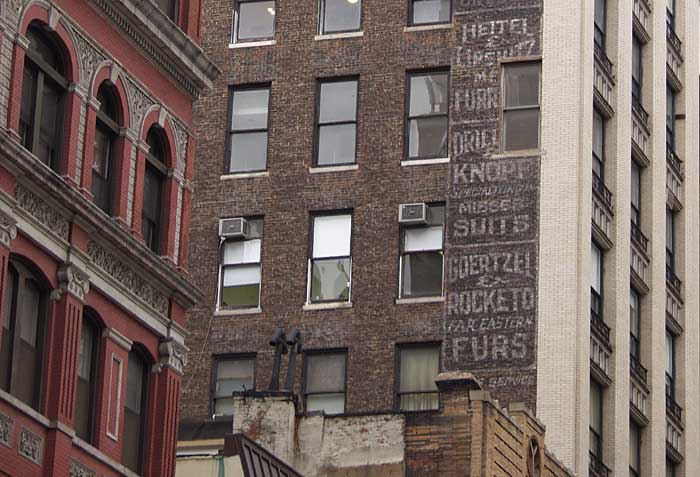 15 W. 26 St. (2002)
Among others:
Baruch & Goldsmith, Fur Coats
H. A. Posner & Bro., Mfg. Furriers
Kreitman & Brick, Furs
Modern Cloak & Suit House
Heitel & Lipshitz, Mfg. Furriers
Drilling & Knopf, Specializing in Misses Suits
Goertzel & Rocketo, Far Eastern Furs
For more signs in this stack click here.
Baruch & Goldsmith were Morris Joseph Baruch (1871/72-1947) and Samuel B. Goldsmith (ca.1882-?). Baruch was a native New Yorker, while Goldsmith immigrated from Russia around 1906. Their partnership started here at 15 W. 26th St. in 1916 and lasted until 1922/23. Around 1923 the partnership dissolved: Samuel Goldsmith remained here on 26th St. as Samuel B. Goldsmith Inc., while Morris Baruch became M. J. Baruch Sons Inc. at 11 W. 25th St. Morris Baruch's sons, Solomon L. Baruch (1896-?) and Reginald Norton Baruch (1899-1941?), joined him in the business.
The firm Heitel & Lipshitz (Harry Heitel, Isidor Lipshitz) seems to have existed only between 1919 and 1921, and was located in this building no more than the 2 years 1920-21. Harry Heitel remained in the fur business with his own firm Harry Heitel Inc. (1922-25) and then Heitel & Berkovitz (1933).
Kreitman & Brick, Furs was also short-lived, possibly for no more than the single year of 1920 when they were located here. In 1921 Louis Herbert Kreitman (1894-1944) began a new partnership with Samuel S. Newman (1895-1959) at Kreitman & Newman located on 27th St. For more on Kreitman & Newman see their information at 153 W. 27th St. Meanwhile, Morris W. Brick (ca.1868-1938) stayed here at 15 W. 27th St. with M. W. Brick & Co. for another couple of years. Also officers with Kreitman & Brick and in M. W. Brick & Co. were the brothers Joseph Bernard Kruskal (1885-1949) and Eugene Kruskal (ca.1888-1944). Kreitman & Newman was in business from 1921 to 1929. In the 1930s Louis Kreitman had another short-lived partnership (Kreitman, Bretholtz & Edelstein (1933-34)) and then was in business by himself (1934-39). Morris Brick founded his own firm, M. W. Brick Buying Service (1932-38), and also was a manager at Kruskal & Kruskal until his death in 1938. For more on the Kruskals see their information at Kruskal & Malvin. Prior to his career as furrier, Morris Brick had a long career as a clothing manufacturer. This started in 1898 on Canal St. as infants' wear, and continued with various partnerships to make cloaks and suits. Among the partners were Joseph Shaff (1877-1928), Louis Hochenberg (ca.1863-1937), Barnett Friedman, and a brother, Charles Solomon Brick (1880-1965). One of the last of these enterprises was the Ten Dollar Garment Co. (1915-1917) located at 137 5th Ave. (corner 20th St.).
Goertzel & Rocketo (Martin Goertzel, Louis Rocketo) also located here around 1920-21. Martin Goertzel (1893-1951) was born in Russia, immigrated in 1909, and became associated with Samuel Arbeit in the late 1940s (with Martin Goertzel & Arbeit Inc. at 345 7th Ave.). Louis Rocketo (1886-?) was employed as a furrier at Goldstein Wallace, 30 W. 29th St. when he registered for the World War I draft Sept. 1918.
H. A. Posner & Bro. was located here from around 1910 until 1928. The founder, Hyman A. Posner, was in partnership with his brother, Reuben Posner, from 1912 through 1915. So this sign should date from that period. In 1928 at the age of 59 Hyman A. Posner committed suicide, taking poison while on the "Jungle Walk" at the Bronx Zoo. He left five notes, four in Hebrew, one in English. The New York Times, reporting on Aug. 23, 1928, p. 26, quotes only from the English: "I am going to leave you. I have lost my nerve and pep because business has been so bad."
All five of these businesses were furriers. The sign indicates that Goertzel & Rocketo dealt in far eastern furs.
Also on this wall: 2 businesses that were not furriers:
Modern Cloak & Suit House (click for image). This reads Modern / Cloak & Suit / House / Suits / Coats / Dresses. The founder was Moses Abramson (1877-1949), an immigrant from Russia ca1890. The business began downtown at 42 Walker St. around 1912 and moved to 15 W. 26th St. in 1915. Abramson did business also as M. Abramson, cloaks & suits, and as Roslyn Waist Co., both at 15 W. 26th. Roslyn Waist Co. was presumably named for Abramson's daughter, Roslyn. She appears as a 6-year-old in the U. S. Census of 1920, living with Moses Abramson, his wife, Rebecca (Beckie), his sons, Sidney, Philip, and Leon, another daughter, Irene, and his mother-in-law, Martha Levine. In Abramson's death notice in the New York Times, 1 April 1949, p. 25, Roslyn is mentioned among the survivors, Mrs. Roslyn Korn. On Moses Abramson's registration for the World War I draft a note appears in the date of birth space to the effect that "Data will be furnished later as man cannot [identify ?] normal operation now..." The card is written in the neat if somewhat florid handwriting of the registration agent, Mary G. Delaney, then signed Moses Abramson in another handwriting. Apparently Abramson had some kind of disability at the time that prevented him from filling in his own card... Modern Cloak & Suit went out of business around 1921. This ad ran in the Times Jan. 1917. Abramson's occupation in the 1930 U. S. Census is real estate insurance.
Drilling & Knopf, Specializing in Misses Suits (click for image). The partners were Joseph Drilling and Julius Knopf. Joseph Drilling, age 31, an immigrant from Austria in 1894(?) appears in the U. S. Census of 1910 living with his mother-in-law, Jennie Blackman, on East 2nd Street. His profession is given as "Manufacturer Cloaks." Julius Knopf (1883-1971) appears in the same census living further downtown on Lewis St. with a cousin, Elias Citron. Like Drilling, Knopf, age 26, is an immigrant from Austria and gives his profession as "Designer Cloak House." The Drilling-Knopf partnership lasted only from 1920 to 1922, and they were located here at 15 W. 26th St. during those years. In 1932 both Drilling and Knopf can be found in new partnerships: Drilling with Martin Greenstein (1895-1981) at Greenstein & Drilling Inc., women's clothing manufacturers, and Knopf with Nathan Weiser (1885-?) at Weiser & Knopf cloaks.
< previous || next > index map signs by date signs by name