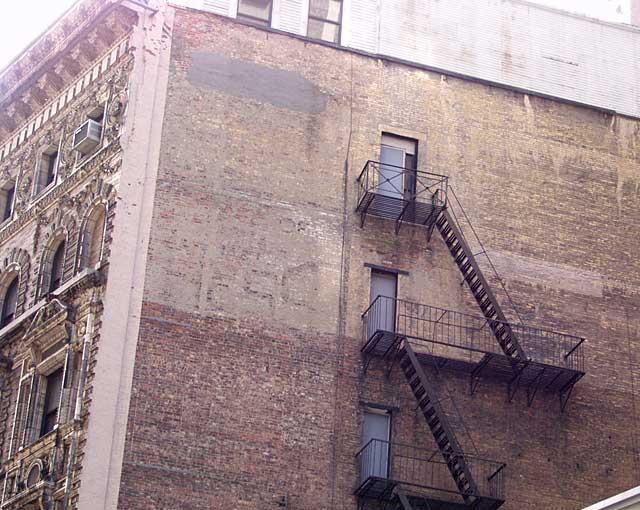 M & L Hess, Real Estate, 907 Broadway at 20th St. (2003)
The indistinct ghost of the word HESS on this ornate building at Broadway and 20th Street marks the main office of M & L Hess, Real Estate, founded in the 1890s by Morris Hess and his brother Leopold Hess.
Leopold Hess (1851-1897), an immigrant from Germany in the 1870s, was "born at Frankfort-on-the-Main" (as cited in his New York Times obituary, Mar. 4, 1897) "forty-five years ago and came to New York about twenty years ago" (1877).
Morris Hess (1847-1901), also born at Frankfort, Germany, died four years later.
The business was inherited by Morris Hess' sons, Nathaniel J. Hess (1871-?) and Edwin Hess (1873-?) both of whom were also born in Germany.
Morris Hess and his two sons (ages 8 and 6) appear in the 1880 US Census living at 340(?) East Sixty Fifth St. Leopold Hess lived with him at this address. Morris and Leopold's professions are described as "General Insurance Agent" and "Broker" respectively. Morris Hess and his two sons also appear in the 1900 US Census, now living at 34 W. 89th St., Enumeration District 517, Sheet No. 11. Morris became a naturalized citizen in 1867, Edwin and Nathaniel in 1876.
Hess had offices at 907 Broadway as early as 1902 and remained here until the early 1970s. They advertised themselves as business property specialists.
Other Hess signs in the 14 to 42 area appear at 860 Broadway and 432 Park Avenue South.
< previous || next > index map signs by date signs by name see what's new