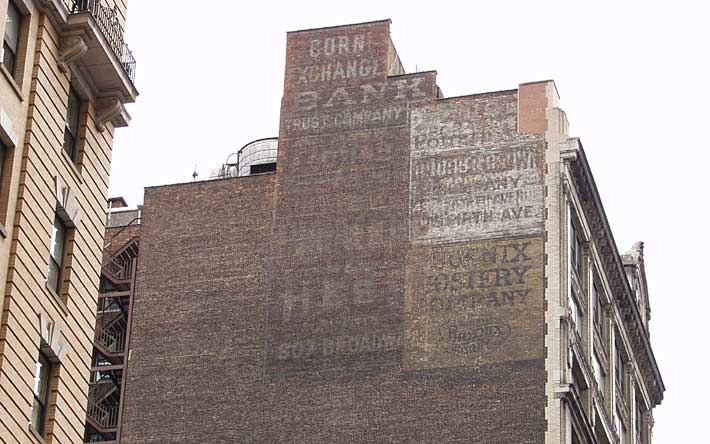 Corn Exchange Bank Trust Company, etc., 432 Park Ave. South at 29th St. (2003)
The Corn Exchange Bank was founded in 1852 and opened for business in 1853. The branch office at Fourth Ave. and 29th Street was opened in 1913. The name Corn Exchange Bank Trust Co. was adopted in 1929.
This sign, then, dates from 1929 or a little later.
Of an earlier date is the sign that came to light near Varick and Canal Sts. late 2003 when a building was razed at that location. This Corn Exchange Bank sign would have preceded the name change in 1929. (Click for sign.)
In 1954 the Corn Exchange Bank merged with the Chemical Bank and Trust Co. to form Chemical Corn Exchange Bank. Chemical then dropped the Corn Exchange from their name in 1959 and became Chemical Bank New York Trust Co. Chemical continued to maintain a branch office at this corner of Park Ave. South and 29th St. until the mid-1980s. Then they moved across the street to 425 Park Ave. South.
Phoenix Hosiery Co., based in Milwaukee, maintained offices, a showroom and a warehouse in New York from around 1923 until the mid-1970s. They were located here on Fourth Ave. from 1923 to 1950. The product sold in New York stores from an earlier period. Click here for ad from New York Times 1914.
To the left of Phoenix Hosiery are the faint remains of a sign for M & L Hess, real estate, with the address 907 Broadway. For more on M & L Hess see their page on 20th St..
As of August 2007 new construction along 29th St. threatens the view of these signs. Click for Aug. 2007 view.
< previous || next > index map signs by date signs by name