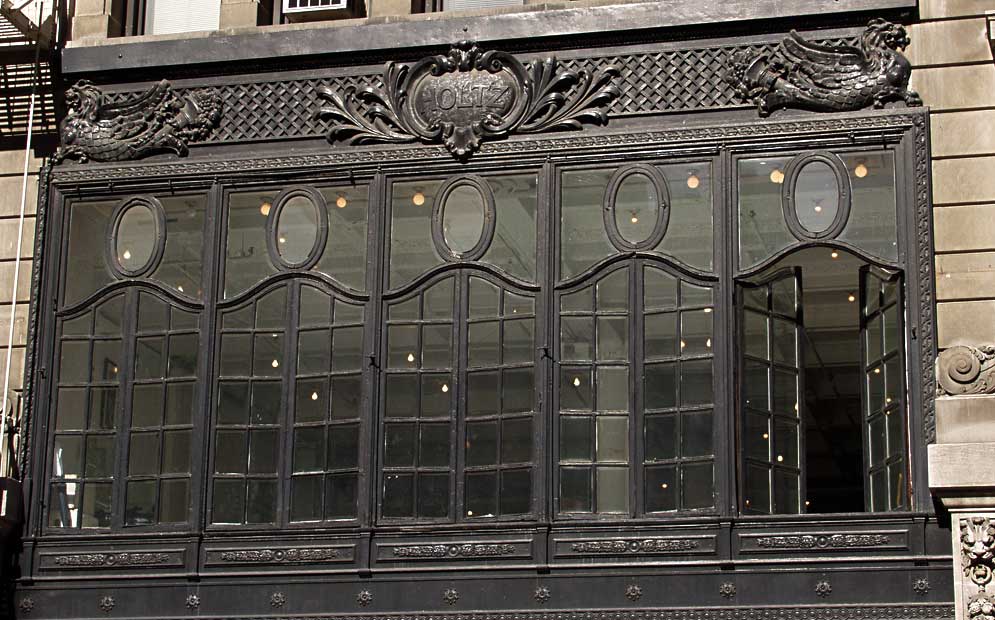 Holtz, 7 E. 20th St. (2004)
Holtz was Christian P. F. Holtz (1827/28-?) born in Hamburg, Germany. His name often appears in the variant form, Christian F. Holtz, as well as in its Americanized form, Charles F. Holtz. He lived in Hoboken, New Jersey, where a city directory from 1859 lists: "Holtz C. F. Park Hotel, Hudson c. Fourth Hoboken." He is described as working as a waiter in the U. S. Census of 1860, and in 1862 the Internal Revenue Service assessed taxes consisting of $30 for "Hotel 4th Class," $20 for "Retail Liquor Dealer," and $15 for 3 billiard tables. These businesses were located at 150 and 152 Hudson St., Hoboken. Trow's New York City Directory of 1863 shows that he had by that time opened a "saloon/restaurant" on Duane St. in New York. Trow 1869 describes Christian F. Holtz as dealing in "Havana segars, champagnes, Bordeaux & Rhine wines." This is a clear indication that he was running an import business for these products. And, in fact, in the U. S. Census of 1870 Holtz gave his occupation as wine merchant.
From around 1870 Holtz's restaurant and wine importers were located at 95 Duane St. and 307 Broadway (two entrances to the same building). By the mid-1870s he acquired a partner, Henry Koennecke. City directories in the 1880s describe Holtz & Koennecke as "importers of wines, &c. sole agents for C. F. Eccardt, Creuznach, Rhine & Mosell wines, P. J. de Tenet & Ed. de Georges Bordeaux clarets, Bruch-Foucher & Co. Mareuil Sur Ay champagne, Rheus natural mineral water, Ofner Rákóczy bitter water and D. H. Carstens Lubbeck canned vegetables, &c." Then around the mid-1880s this partnership dissolved, and Holtz took a new partner, Bruno Freystedt. This created the long-lived business, Holtz & Freystedt, which tended to be the name used for the import business. The name Holtz was retained for the restaurant, and in 1896 a second Holtz Restaurant was opened at 365-367 Broadway on the northwest corner of Franklin St.
Christian Holtz's name disappears from city directories after 1894, and in 1896 the New York Times reported a new incorporation: "Holtz & Freystedt Company of New-York City, to deal in wines and liquors, rectify liquors, and to keep and erect or operate hotels; capital $100,000." The directors were Bruno Freystedt, Ernest Harbers, and Amandus Mayer of Hoboken, N. J. and Paul Freystedt and Charles W. Folden of New York. In 1902 the New York Times reported that Mrs. James J. Coogan had sold the 6-story building at 604 to 608 Broadway on the southeast corner of Houston St. to the Holtz & Freystedt Co, who "will occupy the lower floors as a restaurant." This third Holtz Restaurant was the victim of a destructive fire in 1904, but was back in business a year later. (For more of Mrs. James J. Coogan, see below.)
Trow 1909 is the first to list the Holtz Restaurant at 7 E. 20th St. Plans for a new 12-story brick and stone loft building at that address were filed with the New York City Dept. of Buildings in that year. The owner was Philip Braender, 143 W. 125th St., and the architect was William C. Frohne, 26 E. 21st St. A Holtz Restaurant seems to have operated here from approx. 1909 to 1913. After 1913, listings indicate the building was used for Holtz & Freystedt offices but not for a restaurant. The Holtz Restaurant at 365 Broadway continued to operate until around 1940. The Times reported in April, 1940, that the 6-story building at the northwest corner of Broadway and Franklin had been sold and that the ground floor had been occupied by Holtz Restaurant since 1895. In 1942 the obituary for Eugene J. Mentzel, former proprietor of Holtz's Restaurant at 365 Broadway, states that the restaurant had closed "two years ago."
This advertisement for Holtz & Freystadt from 1915 gives the two Broadway addresses (corner Frankin St. and corner Houston St.) for Holtz restaurants.
Other than Bruno Freystedt, two other Freystedts were involved in the business. These were Paul Freystedt (1858-?) and Walter William Freystedt (b. 24 Feb. 1887, Hoboken, N. J.). Paul Freystedt was possibly Bruno's brother, and Walter W. Freystedt was Bruno's son. Paul Freystedt is first mentioned in the 1896 new incorporation. He appears in the 1900 U. S. Census (born Germany, immigrated 1880) living in the Bronx. He was president of Holtz & Freystedt until 1910, later became a vice-president, but in the 1920 Census gave his occupation as "None." Walter W. Freystedt was president of Holtz & Freystedt from 1912 to 1915, but in 1917 registered for the World War I draft when employed as a salesman for the Mutual Tire & Rubber Co. of New York.
----------------------------------------------------------------------------------------------
The same Mrs. James J. Coogan who sold the property at Broadway and Houston St. to Holtz & Freystedt was the wife of one-time Manhattan Borough President, James J. Coogan (1845-1915). She was born Harriet Gertrude Lynch and inherited real estate from her father, including properties near the Polo Grounds (the area thus became known as Coogan's Bluff). Prior to his career in politics, James J. Coogan was in business with his brothers as the Messrs. Coogan Brothers, "The most prominent furniture store among the many in the Bowery ... at the corner of Grand-street" (New York Times, 7 June 1885, p. 4). The building at 123 Bowery still stands and as of Nov. 2008 still displayed a sign for Coogan Bros. (Click for image). The Coogan furniture business was located here from 1879 to 1892. This sign is one of the oldest painted wall signs in New York City. A vintage photograph dated 1888 showing the Coogan sign appears in the book New York Then and Now, by Edward B. Watson and Edmund V. Gillon, Jr. (Dover Publications, 1976). An older painted sign in New York is that of S. Oppenheimer & Co. at 170 Eldridge St. (see their history on Walter's Fotos e Imagens site).
< previous || next > index map signs by date signs by name see what's new