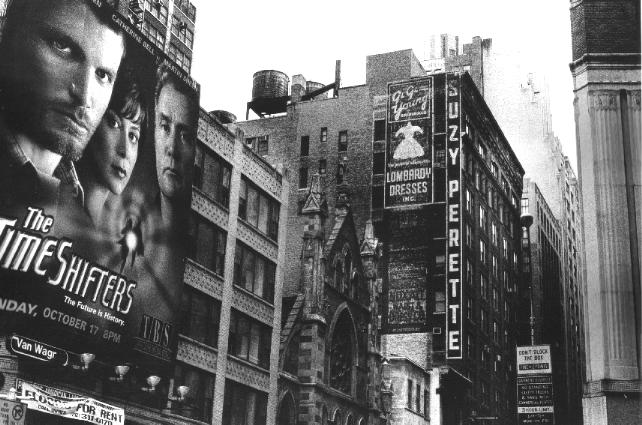 Suzy Perette, 134 W. 37 St. (1999)
Lombardy Dresses, founded as Lombardy Frocks in 1930, was located here at 134 W. 37 St. between 1939 and 1966. Suzy Perette Dresses, part of the same company, was located here between 1949 and 1975. Suzy Perette was the registered trademark of Lombardy Dresses (first use in commerce 1946; filed 1954 by Lombardy Dresses, 134 W. 37th St., NYC). The Gigi Young logo, originally Gigi Young Fashions (between 1953 and 1959), was used between 1959 and 1966. The sign, then, that combines these three elements must date from approximately the first half of the 1960s.
Of an earlier date is the indistinct Noxall Waist & Dress Co. sign that appears at the bottom of the "stack." Click for detail on Noxall. Noxall was located at 134 W. 37 St. between 1925 and 1940. This sign, then, probably dates to the late 1920s. Percy Loomis Sperr's photograph dated 1932 in the New York Public Library's Digital Collections shows the Noxall sign in its present position, but also with NOXALL DRESS CO in the vertical slot occupied by SUZY PERETTE in 1999. Originally called Noxall Waist Co., the company was founded by Nathan Fineman and Samuel Lieber around 1915. At that time they were located on Spring St. and had a showroom on Fifth Ave. This ad appeared in Fairchild's Women's Wear Directory, Spring 1918.
This ad for Noxall Waist & Dress appeared in Women's Wear Daily, 7 January 1927, when they were located at 134-142 W. 37th St.
< previous || next > index map signs by date signs by name see what's new