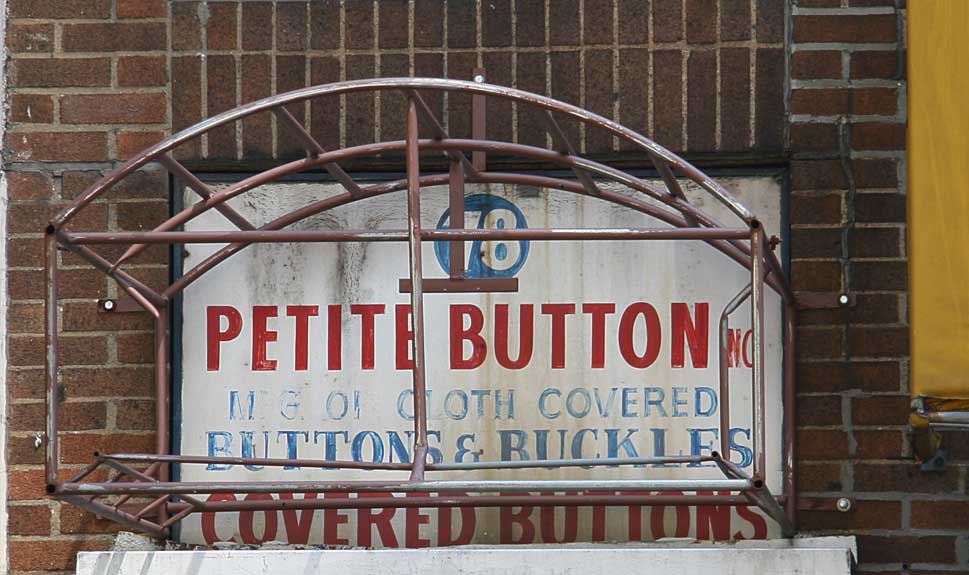 Petite Button Inc., 78 W. 36th St. (2007)
Faded and only visible because the canvas covering an awning support had been removed, this sign reveals the location of Petite Button Inc., apparently a thriving business as of May 2009. Numerous internet search services locate the business here on 36th St. near the corner of 6th Ave. Although these kinds of listings are often hopelessly out of date and notoriously inaccurate, there seems little reason to question the continued existence of Petite Button. The business has been around since about 1949, and they moved to this location in the late 1970s. Incorporation was filed with the State of New York in August, 1978, when the name, Moe Jaffe, appeared as Chairman or Chief Executive Officer.
Other addresses for Petite Button have been
1049 6th Ave. between 39th and 40th Sts. (1949-1955)
1008 6th Ave. between 37th & 38th Sts. (1956-1981)
519 8th Ave. between 35th and 36th Sts. (2002)
This photo from 2003 shows the sign at 78 W. 36th St. before the awning support was put up.
< previous || next > index map signs by date signs by name see what's new