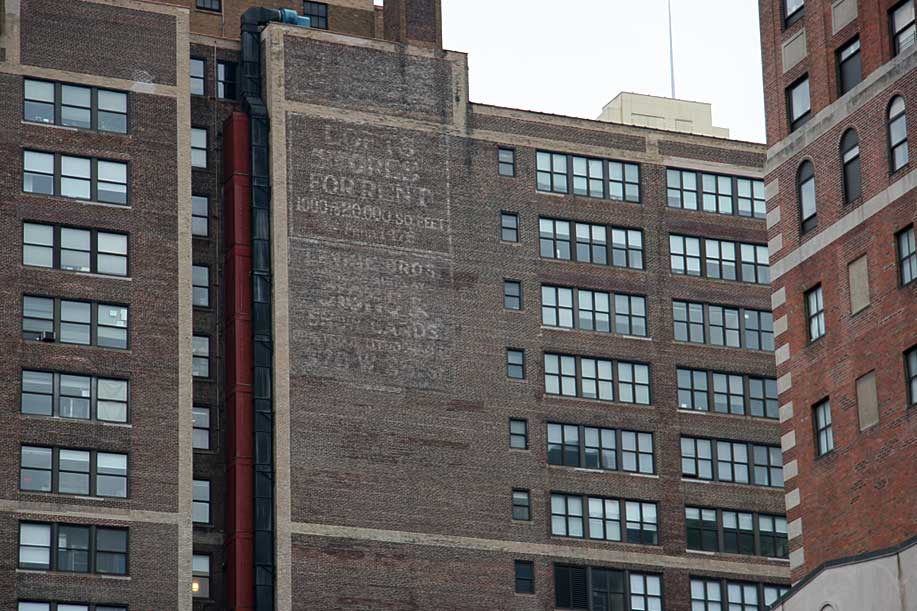 Levine Bros., 370 W. 35th St. (rear) as seen from 9th Ave. near 34th St. (2008)
LOFTS
STORES
FOR RENT
1000 to 20,000 SQ. FEET
Tel Penn 1478
---------------
LEVINE BROS
WINDOW DISPLAY
SIGNS &
SHOW CARDS
PRINTED & LITHOGRAPHED
370 W. 35th ST.
These are the signs I use to test new cameras as soon as I leave B & H (a photo/video store at 9th Ave. & 34th St.). The signs look out over 34th St., faded but still readable as of Jan. 2008. The Levine brothers were Charles Levine (1890-?) and Nathan Levine (1898-1977). They were the sons of Morris Levine (b.1862?), who appears in the U. S. Census of 1920. Morris Levine was a tailor born in Minsk, Belarus. His year of immigration appears to read 1888, but is more likely 1898 since his elder son, Charles, was born in Minsk 1890 and his younger son, Nathan, was born in New York 1898.
Both brothers registered for the World War I draft. At the time Charles worked as a salesman for Harry Fogelson, a sign maker located at 125 Fulton St., and Nathan was a bookkeeper at the Yorkville Paper Co. They started their own company shortly thereafter. Charles was in business for himself around 1917, and Levine Bros. came into being in 1919 at 25 E. 14th St.
Levine Bros. were located at 370 W. 35th St. from 1930 to 1934. In 1935 they moved to 111 8th Ave., where they stayed in business for another 50 years (closed in 1987).
A photograph dated 1941 by Percy Loomis Sperr (1890-1964) shows these signs when they were relatively new. This image is found on the New York Public Library's Digital Collections.
< previous || next > index map signs by date signs by name see what's new