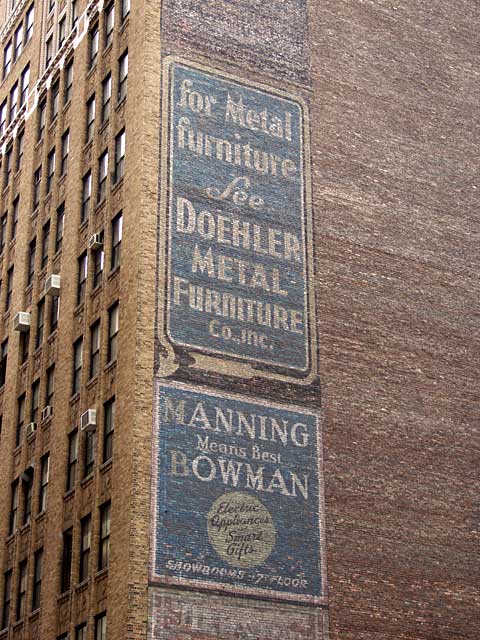 Doehler Metal Furniture and Manning-Bowman, 192 Lexington Ave. at 32 St. (2003)
Two very striking signs on the back (alongside 32nd St.) of 192 Lexington Ave.
Manning, Bowman, & Co. of Meriden, Conn. maintained an office and showrooms at this address for 30 years (approx. 1945 to 1975). They manufactured silverware, barware, chrome kitchenware and other metalware, as well as small electric appliances like toasters, coffee urns, percolators, and waffle irons.
A full-page advertisement for "Up-to-Date Chafing Dishes" in the Home Furnishing Review (June 1895) gives an earlier address of Manning, Bowman, 57 Beekman St. New York, (click for image).
This ad from a 1903 issue of the Home Furnishing Review gives Manning, Bowman's New York address as 25 West Broadway.
This ad from 1904 gives Manning, Bowman's New York office as 10 Warren St.
This Manning, Bowman ad from 1907 featured the "Meteor" Coffee Percolator.
Founded in 1832 in Middletown, Conn., Manning-Bowman was named for Edward Manning and Robert Bowman, who were part of a group from Meriden, Conn. who bought the company in 1872. Edward Baldwin Manning (1834-1911) and Robert Bowman (ca.1829-1900) appear back-to-back in the 1870 U. S. Census living in Middletown, Connecticut. Both are described as manufacturers of Britania ware. Wikipedia defines Britannia ware (or Britannia metal) as "a specific type of pewter alloy, favoured for its silvery appearance and smooth surface."
In 1864 the Hartford Courant 23 March 1864, pg. 2, reported, "Middletown.- Edward Manning of Cromwell, has leased the factory formerly used by the Baldwin Tool Co., in Middlefield, and will carry on the business of manufacturing Britania ware." In 1869 Manning, Bowman & Co. "manufacturers of britannia & silver plated ware" had a New York presence at 60 John St.
Edward Manning's biography in History of New Haven County, Connecticut, edited by J. L. Rockey, 1892, reads in part, "Edward Baldwin Manning, son of Thaddeus and Esther (Richards) Manning, was born in Middletown, Conn., January 21st, 1834. He is a descendant of William Manning, who was in Cambridge, Mass., in 1634. A son of William was selectman for several years, and was sent to England on business for the Plymouth colony. Edward Manning received his education in the schools of his native town, and at an early age his father took him into his factory to learn the Britannia trade. After serving his time and becoming thoroughly familiar with the business, he formed a corporation under the name of Manning, Bowman & Co., and was appointed treasurer of the company, he being then in his 26th year. The firm manufactured Britannia ware and planished tin goods. On account of better facilities and inducements offered by Meriden parties, the firm removed to Meriden in 1872, occupying the vacant factory of Parker & Caspar Co., on Pratt street. Mr. Manning was then appointed president of the company, which he has since held. The factory plant has been very much increased, until now the whole block bounded by Pratt, Catlin and Miller streets is occupied by the buildings of the company. The firm now manufacture granite iron and pearl agate ware, nickel silver, Britannia, copper and planished goods. Their goods are sold not only in the United States, but a large trade is done in South America and Australia. The factories of the company are as well arranged as any in Meriden, and the plant is a credit to the city. The interests of the Manning & Bowman Company have always absorbed so much of Mr. Manning's time that he has been averse to holding public office. While in Middletown he was a member of the city council for two years. In 1886 and 1887 he served as alderman, the last year being chairman of the water and sewer committees. ... Mr. Manning married, in 1862, Martha J., daughter of Lester Robinson, Esp., of New Haven, and has one daughter living."
A portrait photograph of E. B. Manning appears in the google books presentation of this work:
But all was not always sweetness and honey between the two partners. This story from House Furnishing Review, vol. XIII, no. 2, New York, February, 1898, describes some of the infighting that took place within the Manning, Bowman corporate structure: "The directors of Manning, Bowman & Co., manufacturers of agateware, who have offices at No. 35 Warren street, New York, have made an important change in the management of affairs at the factory in Meriden, Conn. E. B. Manning, the president and virtual manager of the concern, goes upon the road, and George E. Savage, who has been head salesman at the Meriden Britannia Co.'s office, has been elected treasurer and general manager. Robert Bowman, formerly secretary and treasurer, was elected secretary. The friction which has existed between Manning and Bowman is probably the primary cause of the changes. The business came to Meriden from Middletown, and has been organized about thirty years. Manning and Bowman, with one or two others, had the controlling interests at the time, although the late Horace C. Wilcox, the founder of Meriden Britannia Co., put considerable money into the concern. Soon after locating in Meriden the treasurer, Frederick Derby, died, and then began a fight for his place. Bowman wanted it, and the president, E. B. Manning, wanted his brother, Henry Manning, who had charge of the New York store in Beekman street, until that was closed two years ago, made treasurer. Bowman pooled his issues with the Meriden Britannia interests and got the place. There was then an open rupture between the two partners and for years they did not speak, although occupying the same office. Whenever one wished to address the other, the message was either written or delivered by a third party."
On his death in 1900 Robert Bowman's obituary in the Hartford Courant, 27 April 1900, pg. 13, read as follows, "Robert Bowman, secretary of the Manning & Bowman company, died at his home in Meriden yesterday of the grip. Mr. Bowman was born in Liverpool, England, seventy-one years ago, and came to this country when but a boy. He located in Middletown where he learned his trade. After working there for a time he went to Wallingford and entered the employ of the late Samuel Simpson. Afterwards he went to Baltimore, Md., where with Henry Bullard he entered the silver plating business. At the outbreak of the Civil War he came North again, and taking up his residence in Middletown once more he entered into a partnership with E. B. Manning and Joseph H. Parsons. The Manning & Bowman Company was organized, with E. B. Manning president and Robert Bowman treasurer. The business was moved to Meriden where under better facilities it grew until it became one of the most important industries of the city. His wife was Miss Adeline Baldwin, a school teacher at Cromwell. Three children survive him: Robert, of New York; Caroline E and Eudocia Bowman of Meriden."
In 1911 Edward Manning's death was reported modestly by the New York Times, 22 Jan. 1911, pg. 11, "Edward B. Manning, founder of the Manning, Bowman Company, now a part of the International Silver Company, died in Meriden, Conn., yesterday, on his 77th birthday," and the New York Tribune, 22 Jan. 1911, pg. 9, "Edward B. Manning, founder of the Manning, Bowman Company, now a part of the International Silver Company, died yesterday at his home in Meriden, Conn., at the age of seventy-seven."
Manning-Bowman chromeware in an Art Deco style are especially prized by collectors today. The original Manning-Bowman Co. was bought by the Bersted Mfg. Co. of Fostoria, Ohio in 1941 and somewhat later (around 1960) by the McGraw Edison Co.
The rather odd phrase "Manning Means Best Bowman" is meant to be read as the company slogan "Manning-Bowman Means Best".
==============================================================================================
The Doehler Metal Furniture Co., Inc. moved to 192 Lexington Ave. in 1933 and remained there until around 1990. Doehler Metal Furniture was an offshoot of the better known Doehler Die Casting Co. founded in Brooklyn in 1907.
A summary of the history of Doehler Die Casting occurs at www.utoledo.edu/library/canaday/HTML, reading, "At its peak during the mid-20th century, the Doehler-Jarvis Company (1908-1998) was the largest producer of die-cast metal in the world. The Toledo-based manufacturer had factories in Toledo, Ohio; Pottstown, Pennsylvania; and Batavia, New York, and was renowned during the 1950s and 1960s for creating a variety of metal products, including automotive parts like engine bearings and decorative hood ornaments for car manufacturers like Willys-Overland, Packard, Ford, and General Motors. The company began in 1907 under the name Doehler Die Casting Company, founded by German immigrant Herman Doehler in Brooklyn, New York. Doehler was a pioneer of the die cast metals industry, and in 1912, Doehler met John Willys at an auto show in New York and was persuaded to relocate his business to take advantage of the growing automobile industry in the Toledo area. By 1914, a new factory was constructed in Toledo, and the company continued to expand over the next few decades, primarily focusing on automobile parts. In 1945, the Doehler Company merged with the Jarvis Company of Grand-Rapids, Michigan, to become Doehler-Jarvis, and in 1953, the company became a division within the larger National Lead Company, which changed its name to NL Industries in 1971. ... In 1982, after reducing its number of Toledo employees from around 3,000 to 900, Doehler-Jarvis was bought from NL Industries by Farley Industries of Chicago. By the end of the decade, Doehler-Jarvis was for sale again, due to struggling profits and its parent company's desire to use the profits from a potential sale to acquire the West Point-Pepperell textile company. Six years later, in 1995, Doehler-Jarvis was sold to Harvard Industries, a Florida-based automotive company ... In 1997, Harvard Industries filed for Chapter 11 bankruptcy, citing the acquisition of Doehler-Jarvis as partially to blame for its many debts. A year later, in 1998, Doehler-Jarvis ceased operations in Toledo, its headquarters for 91 years, after two decades of diminishing sales and productivity."
The original Doehler Die Casting factory was located at 505 Court St. in Brooklyn. In 1933 Doehler Die Casting and Doehler Furniture Co. Inc. shared office space in Manhattan at 386 4th Avenue. That same year Doehler Metal Furniture Co. moved to 192 Lexington Avenue.
This ad from 1928 shows Doehler's 4th Avenue address and their diversification into vending machines.
In 1943 Doehler advertised for a "clean-cut chap" to run errands (click for ad) (New York Times, 19 Sep 1942, p. RE21). Apparently Doehler did good business in defense contracts during the war.
On his death in 1964 the founder of Doehler Die Casting, Herman Hugo Doehler (1872-1964) received the following obituary in the New York Times, 19 Oct. 1964, pg. 33, "Herman H. Doehler, a leader in the development of the modern die casting industry, died yesterday in Roosevelt Hospital. He was 92 years old and lived at 880 Fifth Avenue. Mr. Doehler was founder and head of the former Doehler Die Casting Company, which in 1942 was considered to be the biggest die caster in the world. The concern manufactured 6,000 defense items from tiny fuse parts to major non-structural parts of airplanes. He was born in Nuremberg, Germany, and came to the United States in 1892. Working for a printer in Brooklyn, he was impressed with the type-casting by the Linotype machine. This gave him the idea of developing a die-casting machine for modern industrial use. In his spare time, Mr. Doehler experimented with devices for making castings by forcing molten metal or alloy into a metal mold or die. In 1906 he patented his own method of pressure casting and set up a shop in Brooklyn with a single, hand-operated machine. That small, crude machine is now in the Smithsonian Institution. Mr. Doehler, handsome and robust, proved an able salesman and executive. In 1932 he had closed his original factory and had plants in Pottstown, Pa., Toledo, Ohio, Batavia, N. Y., and Chicago. Soon he was selling die castings to the automobile industry. He was a friend of Alfred P. Sloan Jr., Walter Chrysler and Henry Ford. Mr. Doehler engaged expert metallurgists to develop alloys and prepared for the day of light metals. When World War II came, he had the equipment and technology for die casting aluminum and magnesium. His concern had sold a few minor items to the Army and Navy in World War I. At the approach of World War II, he prepared for ordnance work. By 1941 his company's ration of war orders to civilian orders was about twice that of the industry as a whole. Before the end of the war, his concern was totally engaged in war industry. Mr. Doehler promoted amiable management-labor relations under a closed-shop contract. Twenty years ago his concern was merged into the Doehler-Jarvis Corporation, of which he became chairman. The corporation was acquired by the National Lead Company in 1953, when Mr. Doehler retired. He was the author of a text-book, "Die Casting," published in 1951 hy McGraw Hill. His recreation was traveling, and there were few parts of the world he had not visited. Mr. Doehler was a former president of the Brooklyn Chamber of Commerce. Surviving are two daughters, Mrs. Laura A. Dennant and Mrs. Ruth E. Kieswetter; four grandchildren and five great-grandchildren. A funeral service will be held at Frank E. Campbell's, Madison Avenue and 81st Street, tomorrow at 11:30 A.M."
This ad for the marine division of Doehler Metal Furniture appeared in The Log, Sept. 1944. Executive offices are located at 192 Lexington Avenue, New York 16, NY. A factory is located in Plainfield, Conn., and Pacific Coast sales offices in San Francisco, Santa Monica, and Portland, Oregon.
The Doehler sign on East 32nd St. appears in early 1940s photographs. So it must date between 1933 and the early 1940s.
< previous || next > index map signs by date signs by name see what's new