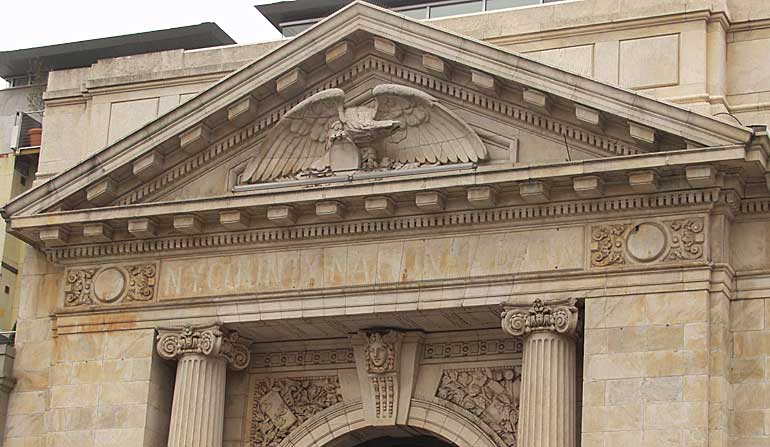 N. Y. County National Bank, 77 8th Ave. at 14th St. (2003)
The New York County National Bank, "founded in 1855, erected this small but imposing neoclassical limestone-faced bank with Beaux-Arts motifs" in 1906-07 (quoting Guide to New York City Landmarks, text by Andrew S. Dolkart and Matthew A. Postal, 3d ed. 2004).
The building was designed by the architectural firm of De Lemos & Cordes with Rudolph L Daus.
De Lemos & Cordes were Theodore Wilhelm Emile De Lemos (1850-1909) and August Wilhelm Cordes (1850-?). De Lemos & Cordes also designed the Siegel Cooper Store on 6th Ave. between 18th and 19th Sts. (1896) (for more on Siegel Cooper see their warehouse building on 17th St.), the Adams Dry Goods Store at 6th Ave. and 21st St. (1900), the Keuffel & Esser Building at 127 Fulton St. (1892-1893), and Macy's Herald Square (1901-02) (original (Broadway) building).
Rudolph L. Daus (1854-1916) designed the New York & New Jersey Telephone Company Building at 81 Willoughby St., Brooklyn (1898) and several other prominent Brooklyn structures, as well as the Hoffman House Hotel Addition at the corner of Broadway and 25th St. (now demolished).
These portraits of De Lemos and Cordes appeared in Moses King's Notable New Yorkers of 1896-1899 (1899).
The building was occupied by the New York County National Bank until the late 1920s, then became a branch of Manufacturers Trust Co. in the early 1930s. Percy Loomis Sperr (1890-1964) took a pair of pictures of the bank dated March 21, 1931 and February 14, 1932 showing the pediment reading N Y County National Bank in the first and Manufacturers Trust Company in the second. These images can been seen on the New York Public Library's Digital Collections. Manufacturers Trust Co. became Manufacturers Hanover Trust in the mid-1960s, and they operated a branch bank here until around 1993/94 when Manufacturers Hanover merged with Chemical Bank.
< previous || next > index map signs by date signs by name see what's new