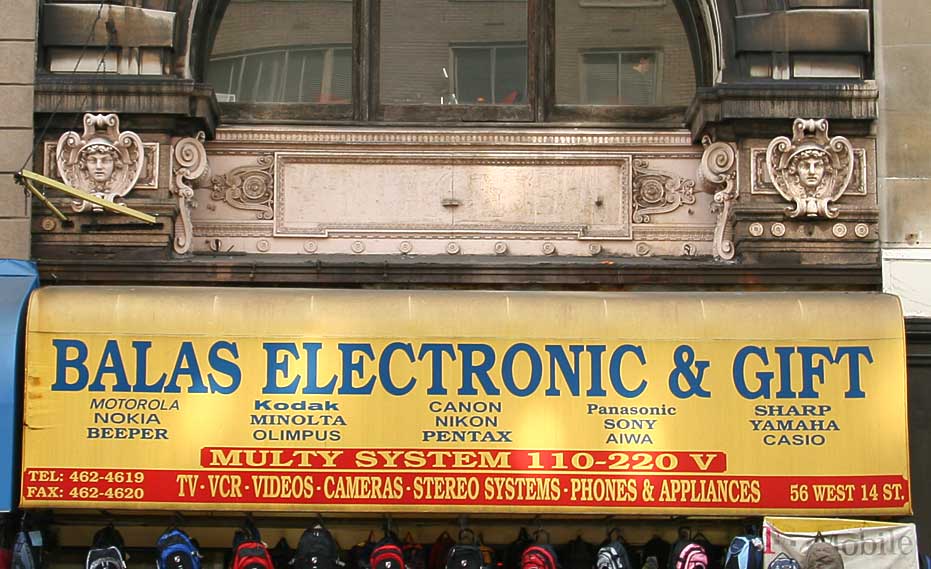 Balas Electronic & Gift, 56 W. 14th St. (2007)
Dimly visible here in the inscription above the entrance to 56 West 14th St. in 2013 one could still make out the word MACY preceded by that company's signature star.

Quoting from the New York City Landmarks Preservation Commission Report of 20 December 2011, "Located near the intersection of 14th Street and Sixth Avenue in the midst of New York City's then-primary retail shopping district, Ladies' Mile, the R.H. Macy & Co. Store, 14th Street Annex was the last phase in the expansion of the complex – including older remodeled structures and several purpose-built annexes – occupied by the famous department store during its 44-year tenure at this location. Founded in 1858 by Rowland H. Macy as a fancy goods store, Macy's became known for innovative retailing strategies and emerged as a full-service department store, one of the city's largest. After R.H. Macy's death in 1877, and the acquisition of controlling interest in the business in 1888 by brothers Nathan and Isidor Straus (who had operated a china and glassware department here since 1874) and sole proprietorship in 1896, the Strauses hired the firm of the prominent New York City architect William Schickel, well known within the German-American community, for a number of commissions. William Schickel & Co. designed Macy's 13th Street Annex (1891-94), while Schickel & Ditmars, the successor firm, designed the limestone-clad 14th Street Annex (1897). Tall at nine stories (plus basement) and slender at 25- feet-wide, the front facade of the 14th Street Annex, designed in an exuberant Beaux-Arts style and arranged in a tripartite base-shaft-capital composition, features a rusticated three-story base with a large round-arched window at the second story, classically-inspired carved detailing, balconies, a four-story midsection with decorative ironwork, a colonnaded upper section, and large copper acroteria at the roof. After Macy's moved to Herald Square in 1902, the 14th Street Annex was occupied in 1904-14 as part of the new 14th Street Store on Sixth Avenue operated by Henry Siegel, the highly successful proprietor of the large Siegel-Cooper & Co. Store at Sixth Avenue and 18th Street. The former Macy 14th Street Annex, owned by the Straus family until 1939 and internally connected to the 13th Street Annex through the 20th century, housed a variety of firms over subsequent decades. The distinctive facade of Macy's 14th Street Annex is a reminder of one of the city's most prominent stores in its original location, and of Ladies' Mile's heyday as the city's central retail shopping district in the second half of the 19th century."

< previous || next > index map signs by date signs by name see what's new