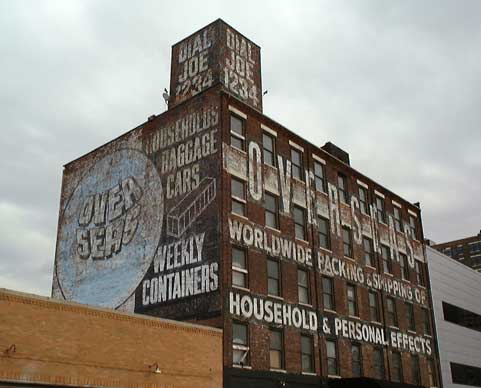 Overseas Shipping, 555 W. 33 St. near 11th Ave. (2001)
Around 1960 Endicott Express Inc. (also known as Endicott Overseas Express and Overseas Expediters Inc.) moved to this location from W. 68th St. They were located here until around 1977-78. They specialized in containerized household shipping overseas. Click here for 1966 ad.
In the late 1970s they moved to North Bergen, New Jersey, but retained their New York telephone number 563-1234 which could be dialed as JOE-1234.
This sign has held up well over the years. Click here to compare with 1989 version. About the only change I see is that the word "shipping" beneath OVER SEAS in the globe is no longer visible.
< previous || next > index map signs by date signs by name return to thumbnails