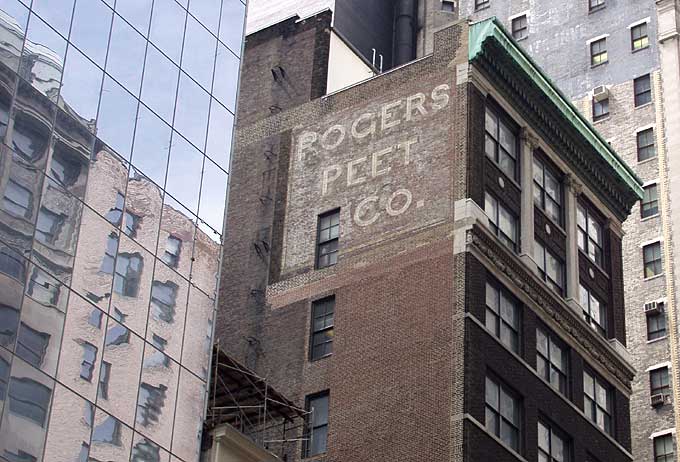 Rogers, Peet & Co., 16 E. 42 St. (2003)
Rogers, Peet & Co. was founded Nov. 6, 1874 through the merger of the clothing firms of Marvin N. Rogers and Charles Bostwick Peet (1837-1902). Both men were wholesale clothiers located on Broadway in downtown New York as of 1866, and both withdrew early from the operations of their new firm. Rogers died (around 1877?), and Peet in 1888 shifted his interest to the insurance business (he was first president of the United States Mutual Accident Association and later one of the vice presidents of the United States Casualty Company).
The original Rogers, Peet was composed of Rogers, Peet, William R. H. Martin, and Frank R. Chambers. William R. H. Martin (1842-1912) was born in St. Louis and spent his boyhood in Brooklyn. He started in the clothing business in New York with his father, John T. Martin. The Martins, with Marvin N. Rogers, formed Marvin N. Rogers & Co. in the 1860s. Martin became head of Rogers, Peet in 1877, then became actively involved in Manhattan real estate. At the time of his death in 1912 Martin "had given his time to management of his real estate interests and had not been active in Rogers, Peet & Co. for a number of years" (quoting Wm. R. H. Martin's obituary, New York Times, 31 Jan. 1912, p. 11). One of Martin's real estate developments was the Hotel Martinique at Broadway and 32nd St. Another was the Marbridge Building at 6th Ave. and 34th St.
From some time in the 1890s, Frank R. Chambers (1850-1940), was the real guiding spirit of Rogers, Peet. Born in Mobile, Alabama, Sept. 3, 1850, he came to New York in 1866 and joined the clothing manufacturing company of Marvin N. Rogers & Co. in 1871. When Rogers, Peet was formed in 1874, Chambers became a director. He remained with the company for 65 years until his death at the age of 89 in 1940.
Some of Frank Chambers biography is contained in his obituary, New York Times, 1 May 1940, p. 29, "Mr. Chambers was born in Mobile, Ala., Sept. 3, 1850, the youngest son of John A. and Elizabeth Chambers. His mother died before he was seven and he was raised by his father's sister, the wife of a Baptist clergyman who supported his family by farming in Central Alabama. His first job was doing farm chores after school hours. The Civil War stopped the schools in 1862 and the 12-year-old boy obtained a job in the Confederate arsenal at Montgomery, Ala., remaining there for two years. During the war he also clerked for an express company and kept books for a bank in Montgomery. After the Civil War he became a bookkeeper for D. Browder & Co., wholesale dry goods merchants in Montgomery, and in 1866 he met a member of the New York company of Evans, Gardner & Co., dry goods jobbers, who offered him a job that brought him to their New York store at Broadway and White Street. Starting as a cub bookkeeper, he became credit man and office manager after two years and, in November, 1871, resigned to join M. N. Rogers & Co. in a clothing manufacturing company which combined with Charles B. Peet & Co. in November, 1874, to form Rogers Peet & Co. The company, located at the southwest corner of Broome Street and Broadway, was composed of Marvin N. Rogers, Charles B. Peet and William R. H. Martin, in addition to Mr. Chambers. The company opened a retail store and soon began an expansion to other locations."
The first Rogers, Peet was located at 487 Broadway at the southwest corner of Broome St. and Broadway. An ad for Rogers, Peet dated 1878-79 can be found in the Digital Collections of the New York Public Library. In 1887 the firm's 300 employees were treated to dinner at the Metropolitan Hotel where each employee was presented with a dividend check for his interest in the company (paid at 3 1/5 percent of each person's salary for the year). In 1890 the firm had stores at 258, 569 and 1260 Broadway at Warren St., Prince St. and 32nd St. respectively. Click here for 1897 ad listing these stores. Around 1899 the Warren St. store was replaced by a store at Leonard St. By 1904 the Prince St. store was replaced by a store at Broadway and 13th St. Then in 1909 the 32nd St. store moved to 34th St. At its peak there were 12 stores in New York. A photo by Percy Loomis Sperr (1890-1964) dated 1938 shows a sign for Rogers, Peet on their building at Broadway and 13th St. This can be seen in the Digital Collections of the New York Public Library.
An inscription reading Rogers Peet Company at Broadway and Warren St. appears in a Wurts Brothers photograph in the NYPL Digital Collections. This is dated 1912.
This ad for Rogers, Peet in 1947 mentions the stores at 5th Ave. & 41st St., Broadway & 13th St., and Broadway & Warren St.
In its early years Rogers, Peet introduced several innovations into the men's wear business: they attached tags to garments giving fabric composition, they marked garments with price tags (the established practice was to haggle), they offered customers their money back if not satisfied, and they used illustrations of specific merchandise in their advertising. They also used cartoons in their advertisements, a rarity at the time. For some time during these early years Frank Chambers personally wrote the advertising copy. The actor John Barrymore, at that time a young artist, was hired to draw humorous cartoons for the advertising.
Rogers, Peet featured men's and boys' wearing apparel (suits, coats, jackets, pants, shirts, hats, neckties, underwear, gloves, socks, belts (you name it!)), then much later added women's apparel (coats, slacks, sweaters).
The store above opened in 1915 with entrances both at 16 E. 42nd and at 479-481 5th Ave. This was the final surviving Rogers, Peet store, which closed in the mid-1980s.
My photo from 2003 shows evidence of underpainting which indicates that it is not original with the opening of the store.
As of Feb. 2003 there was another (vertical) Rogers, Peet sign on the west wall of this building. Also, at street level the ghostly remnant of a sign on a column still looked out onto 42nd St. And there was yet another sign that survived only as a tailend fragment on the north wall of the 5th Avenue entrance. A 1920s view of the corner of 5th Ave. and 42nd St. by the Wurts Brothers shows this Rogers, Peet sign near the 5th Ave. entrance.
< previous || next > index map signs by date signs by name see what's new