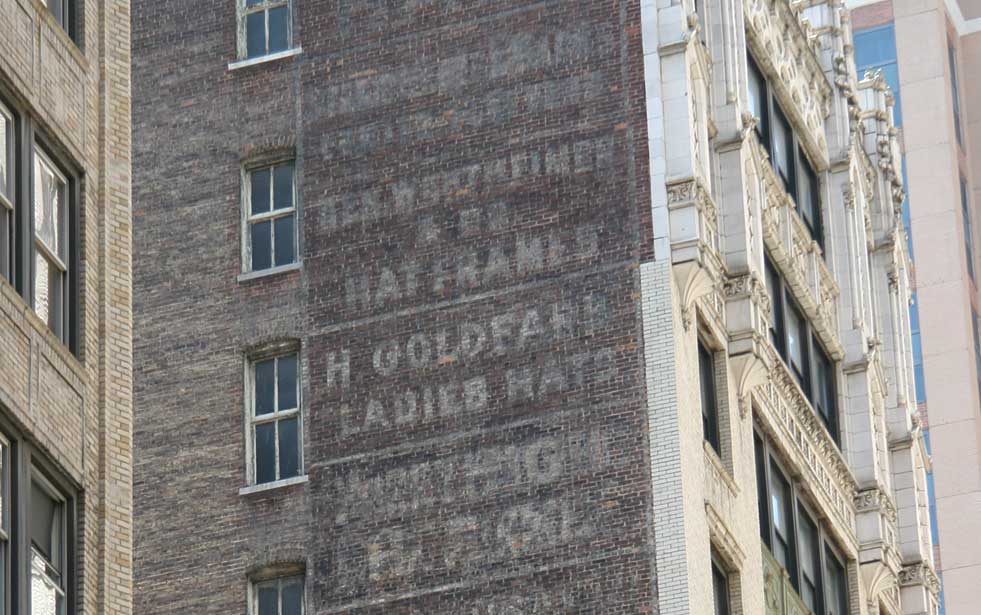 62-64 W. 39th St. (2007)
Among others:
Ben Wertheimer / & Co / Hat Frames
H Goldfarb / Ladies Hats
Julius Sonn Co / Infants Wear
This building at 62-64 W. 39th St. runs through the block and has an entrance on W. 38th St. at nos. 63-67. Most of its businesses are listed as located at 63 W. 38th St.
Ben Wertheimer & Co. manufactured hat frames here from 1913 to 1926. The founder, Benjamin Wertheimer (1862-1915), died shortly after moving to this address. Ownership was assumed by his long-time partner, Jacob Hutter (1873-1941), and his son, Elias A. Wertheimer (1887-?). All three men were native New Yorkers. Ben Wertheimer started the business in the mid-1890s. Jacob Hutter was a partner in 1897 when they were located at 7 Clinton Place. Kevin Walsh's street necrology (Forgotten New York) explains that "West 8th Street used to be known as Clinton Place in the 1800s."
Hyman Goldfarb (1863-1914), Ladies Hats, was located here from 1913 to 1917. Goldfarb appears in the U. S. Census of 1900 living at 67 W. 12th St. He is 36 years old, born Germany, immigrated 1875, naturalized, Millinery. His entry in the 1910 U. S. Census, however, contradicts some of this information. Here he is living at 300 West 109th St., 48 years old, born Russia, immigrated 1884, naturalized, Manufacturer Millinery. Hyman Goldfarb died Wed. Oct. 14, 1914 (New York Times, 15 Oct. 1914, p. 13). After his death his wife, Ray Goldfarb (1867-?), continued the business until 1918. Ray Goldfarb appears on the passenger lists of several ships returning from Europe to New York from 1910 to 1935. With the exception of one trip in 1911 she is traveling alone. The couple seem to have had no children. In 1918 H. Goldfarb & Co. was located at 16 W. 39th St., but they did not leave a sign at that address.
Three signs down from Hyman Goldfarb is a sign reading Julius Sonn Co / Infants Wear (click for image). This company dates from the 1890s, and was located here from 1913 to 1918. Founder was Julius Sonn (1857-1944), who immigrated from Darmstaat, Hesse, in 1873. His first business in New York was dealing in lace goods and ruffles on Lispenard St. around 1882. (Webster 1913 defines a ruffle as "that which is ruffled; specifically, a strip of lace, cambric, or other fine cloth, plaited or gathered on one edge or in the middle, and used as a trimming.") For a short period this company was called Sonn & Wolf, his partner being Julius Wolf. It then became Julius Sonn & Brother, his partner then being Herman Sonn. In 1890 the New York Times noted (5 Dec. 1890, p. 2) "Julius Sonn & Brother, manufacturers of rufflings at 8 Greene Street, have been closed up by Deputy Sheriff Carraher on executions aggregating $8,977 in favor of [their] creditors." Julius Sonn then went into infants' wear manufacture. Initially this company was listed as belonging to Florence Sonn, Julius's wife. Probably she was made nominal proprietor in order to escape the creditors. In May 1899 the Times reported that Julius Sonn and Herman Sonn, who were in business together as Julius Sonn & Brother had been "duly adjudicated bankrupts." The bankruptcy protection probably allowed Julius to come forward as the owner of the infants' wear business (Florence's name does not appear with the business after 1900). However, around 1917/1918 Julius Sonn seems to have dropped out of the business, and one of his partners, William E. Isaacs, became president. This is approximately the time they left 62 W. 39th St. and relocated to 37 W. 20th St. The business closed in 1926.
< previous || next > index map signs by date signs by name