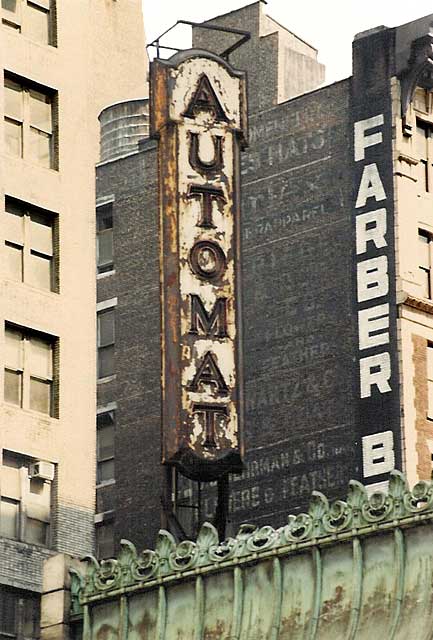 Horn & Hardart Automat, 968 6th Ave. between 35th & 36th Sts. (1986)
The origin of the Horn & Hardart restaurants was a 15-stool lunchroom at 37-39 South Thirteenth St. in Philadelphia, opened Dec. 22, 1888 by Joseph Horn (1861-1941) and Frank Hardart (1850-1918). They imported the idea for their first Automat from Berlin, where Frank Hardart visited the Quisiana Company Automat (a 'waiterless' restaurant) in 1900. The first Horn & Hardart automat opened June 12, 1902 at 818 Chestnut St. in Philadelphia. New York got its first Automat ten years later (1912). It was located in Times Square at 1557 Broadway between 46th and 47th Streets.
The sign above belonged to an automat constructed by Horn & Hardart in 1915. The address at that time was 604 6th Ave. (All of 6th Ave. was re-numbered approx. 1929 when 6th Ave. was extended south from Carmine St. to Church St. at Franklin.) The architects were Stuckert & Sloan (F. Russell Stuckert and Maurice M. Sloan) of Philadelphia, and construction was completed Dec. 1915. This automat closed in the early 1970s (the space was taken over by a (fast food?) restaurant called Deli City in 1972), but it is unclear whether Horn & Hardart continuously operated here for the 55-some years between 1915 and 1970. The address appears in a 1932 listing of contributors to a fund for needy families, then in a New York Times notice about the building being available for lease Nov. 1, 1951, and then in 1968 as a Horn & Hardart automat. Some of the intervening years remain murky... Christopher Gray's Streetscapes article in the New York Times, 1 June 1997, says, "Building and lease records suggest that the Automat at 968 Sixth Avenue survived into the 50's."
A photograph by Percy Loomis Sperr (1890-1964) (available in the New York Public Library's Digital Collections) shows the sign in place in 1932.
----------------------------------------------------------------------------------------------
In the background is Farber Braid Co., 53 W. 36 St. Click here for Dec. 2002 view of the Farber Braid sign. Farber Braid (in business since about 1950) manufactures "accessories" and "trimmings" for the apparel market. Accessories include items like handbags, umbrellas, etc. that are considered fashion related. Trimmings or trims is a garment industry term for items like beads, belts, braid, buckles, buttons, embroidery, hooks, lace, ribbons, tassels, etc. that are added as decoration or ornament to an article of clothing. Currently (Feb. 2004) Farber Braid (William Farber, owner) is located at 149 W. 36th St., 9th Floor. They were located at 53 W. 36th for nearly 20 years from the mid 1960s until the early 1980s.
----------------------------------------------------------------------------------------------
Also in the background just opposite the bottom of Farber is a sign for J. Schwartz & Co / Suits & Coats. Click here for clearer view. J. Schwartz & Co., Cloaks, began at 96 5th Ave. and on East Broadway in 1910 and moved to 53 W. 36th St. in 1914. Proprietor was Jacob Schwartz (1858-?) in partnership with two sons, Julius Schwartz (1888-1980) and Harry Schwartz (1889-1977). Jacob Schwartz was an immigrant from Russia in the 1870s. His sons, Julius and Harry, were native New Yorkers, and both registered for the World War I draft in 1917 as cloaks and suits manufacturers in business for themselves at 53 W. 36th St. The business closed in 1922. Julius Schwartz is probably the Julius Schwartz who in the 1930 U. S. Census was living on Edgecombe Ave., Manhattan, and who was employed as an insurance agent. He registered for the World War II draft in 1942 when employed at the Metropolitan Life Insurance Co., 1775 Broadway. Harry Schwartz is possibly the Harry Schwartz who registered for the World War II draft when living in Allston, Mass. This is somewhat more doubtful because, although the birth date (15 Aug. 1889) matches the World War I registration, this Harry Schwartz stated that he was born in Ukraine.
----------------------------------------------------------------------------------------------
Also on this wall just opposite the B in Braid is a sign for B. G. Behrman / Flowers & Feathers. Click here for clearer view of Behrman sign. Benjamin G. Behrman (born New York 4 July 1872, died 26 Oct. 1940) was in the "flowers and feathers" business on Great Jones St. as early as 1902. The business had several locations on Broadway until 1918 when they moved to 53 W. 36th St. Then in 1920 the New York Times (8 Dec. 1920, p. 33) reported that B. G. Behrman & Co. had changed its name to "Irving Rosenheim & Co." Actually, the new name should have been Ervin Rosenheim & Co. Ervin Rosenheim was born in Philadelphia 23 Jan. 1865. He was in business in Philadelphia as a wholesale milliner at the time of the 1910 U. S. Census. Then in 1911 he opened a flowers and feathers business on Broadway in New York. He had several partners in this business until around 1919/20 when he joined with Benjamin Behrman. Ervin Rosenheim & Co. stayed in business at several locations of W. 36th St. until around 1926.
In Oct. 1919 Benjamin Behrman applied for a passport (traveling to France, Czechoslovakia, England, Holland, Switzerland and Italy to purchase for import flowers and feathers and millinery goods). He stated that he was born on 38th St. between 8th and 9th Avenues on the 4th of July 1872. Attached to the application was an affidavit dated 17 March 1920 and signed by Ervin Rosenheim, Treasurer, B. G. Behrman & Co. Inc. The affidavit bears the B. G. Behrman letterhead (click for image). For a short while in the mid-1920s B. G. Behrman & Co. was resurrected as a manufacturer of ladies' hat bodies nearby at 55 W. 39th St. By the early 1930s Benjamin G. Behrman was working as a manager at Benjamin Hill & Co., stock brokers.
----------------------------------------------------------------------------------------------
Just beneath B. G. Behrman is another flowers & feathers sign, Engle & Zeimer. Click here for clearer view. This company was located at 53-57 W. 36th St. 1917 to 1923. In 1900 Jacob Engle (1868-?) lived at 1291 Commonwealth Ave., Boston, Mass. In the same household were two nephews, Alvin Zeimer (1875-?) and Iselin Zeimer (1880-?). These 3 made up the primary owners of Engle & Zeimer Flowers & Feathers. Louis Zeimer (born Bohemia 28 June 1848, died 4 August 1937) was also involved in the business. Louis Zeimer was the father of Alvin Zeimer and Iselin Zeimer, and he seems to be Jacob Engle's brother-in-law.
Louis Zeimer immigrated around 1869 and filed a petition for naturalization 2 July 1874. At that time he gave his occupation as "Artificial Flowers." The Zeimer family appears in the 1900 U. S. Census living at 116 E. 117th St., Manhattan. And the two sons, Alvin & Iselin, appear here as well as in the Boston census report for the same year. Alvin's date of birth is given here as July 1874. However, when he registered for the World War I draft in 1918, while living at the Collidge Hotel in Brookline, Mass., he gave the date as 22 July 1875. Similarly for Iselin: his date of birth is given as Feb. 1878 in the 1900 Census, but he registered for the World War I draft as born 3 Feb. 1880.
----------------------------------------------------------------------------------------------
Another sign on this same wall reads "S. Treeger." Click here for image. Samuel Treeger (born Austria, July 1869, immigrated 1886, died 1938) appears as an insurance salesman in the US Census of 1930. He was, however, also the founder of S. Treeger Inc., Millinery, which was located at 53 W. 36th St. from 1921 to 1925. Originally a photographer, Treeger started in the millinery business around 1905. By around 1915/16 Treeger's two sons, George Treeger (1893-1966) and Irving Treeger (1891-?), were involved in the business. Both registered for the WWI Draft in 1917 as employed in the millinery business, George at S. Treeger, 596 Broadway and Irving at S. Treeger Rothenberg & Co on W. 14th St. S. Treeger at 596 Broadway was also known as Bueno Hat Works. From around 1912, Treeger was also president of the Fordham Cornice Works in the Bronx. (A man of many hats!) In October 1939 notice appeared in the New York Times of the "Unveiling of [a] monument in memory of Samuel Treeger at Mount Hebron Cemetery, Flushing, L. I."
----------------------------------------------------------------------------------------------
At the top of the stack on this wall is a sign for Sol Blumenfeld / Ladies Hats. Click here for image. This is painted over an earlier sign that ended with "Bros" on the first line and "Coats" on the second. From 1905 to 1910 Sol Blumenfeld was in business with Samuel Lazarus (1867-?) as Lazarus & Blumenfeld, Hats at 719 Broadway. This was the same Samuel Lazarus who later was a partner with Albert H. Bernhard. (For Bernhard, see his story at 57-61 W. 38th Street.) Then from 1911 to 1916 Blumenthal had a partnership with Isaac Seymour Bloom (1868-?) (Blumenfeld & Bloom, also at 719 Broadway). He had his own company, Sol Blumenfeld Inc., from 1917 to 1924. Only in the single year of 1924 was the company located here on W. 36th St. After 1924 Sol Blumenthal disappears from business directories. He appears in the Manhattan telephone directory from 1925 to 1928 living at 161 W. 75th St., and a notice appeared in the New York Times, March 1929, announcing the engagement of his daughter, Marjorie. His later career, if any, I have not been able to trace.
< previous || next > index map signs by date signs by name see what's new