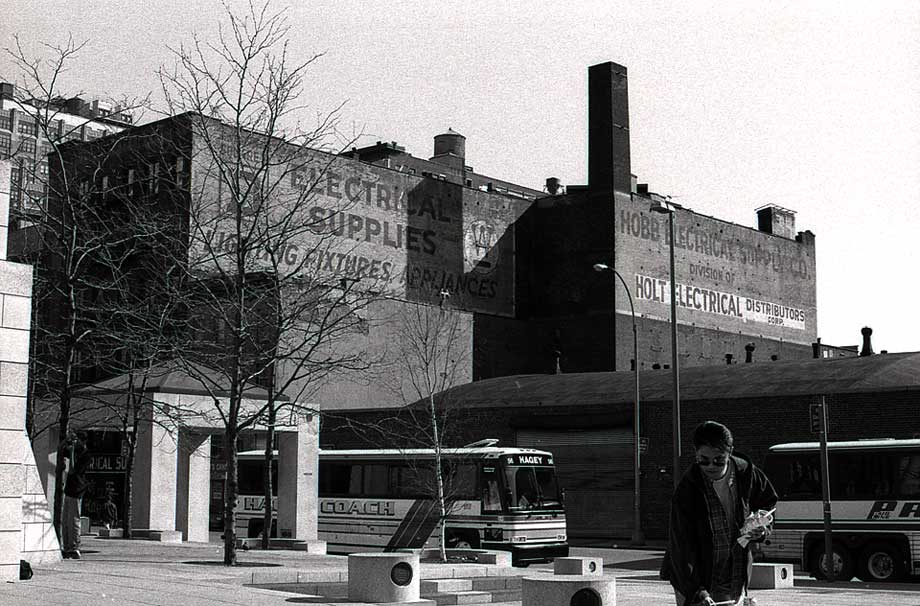 Hobb Electrical Supply Co., 546-548 W. 35th St. (1996)
The Hobb Electrical Supply Co. came into being as Hobb Hardware & Electrical Supply Co. in 1927 at 54 W. 31st St., New York City. In 1930 the New York Times, 20 March 1930, reported that the name had changed to Hobb Electrical Supply.
In 1946 the Times, 13 Nov. 1946, reported as follows, "The Hobb Electrical Supply, Inc., has purchased the six-story warehouse property at 539-545 West Thirty-fourth Street, extending through to 546-548 West Thirty-fifth Street, from George H. Keim and Associates. The buying firm, of which Samuel Miller is president and Leo Siegel treasurer, now is at 30 West Thirty-first Street, with a branch at 319 West Forty-second Street. It plans to consolidate its activities and occupy part or all of the newly acquired property. Fronting 100 feet on Thirty-fourth Street and 50 feet on Thirty-fifth Street, the property contains 90,000 square feet, including a vacant lot on the east, which adjoins Galvin Avenue, a new street connecting with the Lincoln Tunnel. Eleventh Avenue forms the western boundary of the property."
Hobb's move to 34th Street was reflected in the 1948 Manhattan telephone directory when their address became 541 W. 34th St. They were in business here until 1996.
In 1955 the journal Lighting, Oct. 1955, published an extensive article on Hobb, including the following, "Since Hobb Electrical Supply Corporation was founded 28 years ago, Manhattan has grown colossaly. But this wholesale firm has kept pace with the city's giant strides by expanding the scope of its services to meet new conditions and needs. Service planned to solve the great variety of problems brought to the showroom and to save time that means money to contractors and other customers, says Leo Siegel, treasurer of the corporation, is significant in obtaining the many big jobs that Hobb handles. The firm has long supplied fixtures for many of New York's large office buildings, hotels, theaters, department stores, factories, housing projects, radio and TV studios, clubs and airline terminals. Among recent large scale jobs was the supplying of complete fixtures for the new IBM plant in Poughkeepsie. Hobb is now in the midst of furnishing complete fixtures for the new Lord & Taylor store in Garden City, L. I. The firm also supplired fixtures for the new Eastern Air Lines terminal on East 42nd St., the Downtown Club, for C. B. S. and A. B. C. studios and offices, and many others too numerous to mention. ... All of its officers, associated with the firm for many years, are skilled technicians - president Samuel Miller, secretary Irving Mersal, and vice-presidents Herman Solomon and Harold Lieberman. Mac Brambier, fixture sales manager, has had charge of Hobb's showroom for many years and was previously with Standard Lighting of Brooklyn. Leo Siegel's interest in the electrical field goes back to his early youth. He attended the Baron de Hirsch Electrical Engineering School in 1918, then studied further at various electrical institutes. By 1921 he had his own business as an electrical contractor and soon founded the present firm. ... Eight years ago Hobb moved from West 31st St., where it had been located for many years, to its present building at 541 West 34th St. Here an area of 40,000 sq. ft. allows the diversity of stock that Mr. Siegel considers indispensable to the efficiency of the firm's lighting and supply operation. By stocking the lines of at least 25 leading fixture manufacturers, he points out, the firm is able to solve the problems of its custromers promptly, can meet specifications exactly, and can make speedy deliveries. The warehouse location well out of heavy traffic, also aids fast deliveries. In addition to its distribution of lighting fixtures, the firm maintains complete electrical supplies and appliance departments. ..."
In the early 1960s Hobb merged with the firm of Straus-Duparquet, designers of food service facilities. In 1965 the New York Times, 16 March 1965, reported on the bankruptcy petition of Straus-Duparquet, "Straus-Duparquet, Inc., a 113-year old company that designs, builds and installs food-service equipment and interiors for restaurants, hotels and institutions, filed a Chapter XI bankruptcy petition yesterday. ... The operating divisions involved in yesterday's proceedings are the institutional division, which makes and places food-service facilities and contract furnishings; S. & M. Schwartz & Co., which builds interiors for supermarkets, and the Hobb Electrical Supply Company, a wholesale distributor of electrical supplies." By 1966 Hobb was listed as a division of Holt Electrical Distributors Corp. The sign above includes this information. So it was probably painted in the mid-to-late 1960s.
Nothing I found explained the origin of the name HOBB. There didn't seem to be anybody with this name connected with the business.
Mentioned as president of Hobb was Samuel Miller (ca.1900-?). Miller was an immigrant from Russia, and he appears in the 1930 and 1940 U. S. Census reports living in Brooklyn. The 1930 census says he immigrated in 1914.
Listed as treasurer at Hobb for an extended period was Leo Siegel (ca.1902-1979).
Another officer at Hobb was Irving Mersal (1896-1958). Irving Mersal was an immigrant from Russia, and he registered for the World War II draft in 1942 when employed at Hobb Electrical Supply, 30 W. 31st St. A note on this registration reads, "Name changed from Isidore Mersal."
This view of the 34th Street side of the Hobb building shows a view of the sign from 1991.
< previous || next > index map signs by date signs by name see what's new