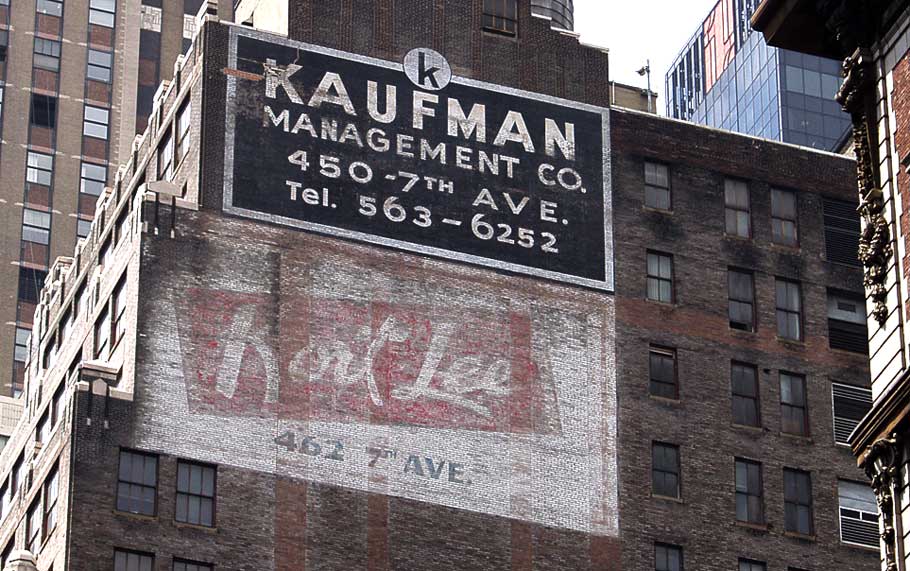 Kort Lee, 462 7th Ave. at 35th St. (2003)
Kort Lee was the outgrowth of several predecessor companies, primarily skirt manufacturers operated by the Levay family. The first U. S. generation of the Levay family consisted of five brothers and at least two sisters. Among them was Abraham Levay (1874-1976). Abraham Levay is the first of the group to be found running a business in New York. This was Levay & Naman who manufactured cloaks (coats and suits) on East Broadway from 1900 to 1903. The partner was Moses Naman (1863?-1953). Besides their longevity, both men shared similar backgrounds, immigrating from Russia/Poland (Naman in the 1880s, Levay in the 1890s).
Around 1904 Abraham Levay left the partnership with Moses Naman and went into business with Abraham L. Friedberg (1870-ca.1923?). This business was Levay & Friedberg who manufactured skirts from 1904 until 1923. In addition to Abraham Levay, several of his brothers also worked for Levay & Friedberg. One was Bernard Levay (b. 1883? or 1887?, d.1963) who registered for the World War I draft in 1917 as a "Manufacturer of Skirts, Levay & Friedberg, 40 W. 25 St. NY." (Confusion reigns about Bernard Levay's birth date. He registered twice for the World War I draft, first in 1917 where a correction is added at the bottom of his card reading "Correct age & date of birth is 1883 Oct 22." Then he registered again in 1918 where birth date is given as 22 Oct. 1882. But his 1942 registration for the World War II draft gives the date as 22 Oct. 1887.)
This ad for Levay & Friedberg appeared in The American Cloak & Suit Review, Nov. 1917.
Another predecessor company was Levay Bros. which was formed around 1912 to manufacture suits and coats. The brothers here were Herman Levay (1882/83-1963) and Jacob David Levay (1880-?), although both Abraham and Bernard Levay and even Abraham Friedberg were also involved in this company. Herman Levay was also employed at Levay & Friedberg. His registration for the World War I draft specified that he was "Superintendent, Levay & Friedberg, 40 W. 25th St." Herman Levay also registered for the World War II draft where he identified his place of birth as "Pentum, Poland." In the same draft Jacob Levay identified his place of birth as "Pentpop, Russia." Apparently Herman Levay never married. On his World War I draft registration he listed his nearest relative as "Mrs. Sohon, 201 W. 117th St." Mrs. Sohon was his sister, Ethel Levay (the name was also spelled Yetta and Etta), who married Benjamin Sohon (1877or79-1957). Sohon was born in Lithuania, manufactured cloaks on Wooster St. as early as 1901, became a naturalized citizen in 1914, and manufactured children's dresses under the name Sohon System from around 1915 until the mid-1930s. His passing in 1957 was noted in the New York Times by the "Le Vay Family Circle."
Another brother was Joseph Levay (1892-1969). His listing in the U. S. Census of 1920 indicates that he did not immigrate to the U. S. until 1911. His 1917 World War I draft registration gives his place of birth as Marianpol, Suvalk, Russia. He was a superintendent at Levay & Friedberg at the time. His 1942 registration gives the place of birth as Kuona, Russia. Kauno is a place name near Kaunas, Lithuania. Marijampole is further south near the boarder with Poland, but also in modern Lithuania.
In the early 1920s the business name Levay & Bros began to be used concurrently with Levay & Friedberg as a manufacturer of skirts. The name Kort Lee Frock Co. first appears in the Manhattan telephone directory in 1924. The 1925 New York City Directory lists Abraham, Bernard and Joseph Levay as the officers in both Kort-Lee Frock and Levay & Bros.
This Levay & Bros. ad from 1922 refers to "formerly Levay & Friedberg."
The sign for Kort Lee clearly gives the address as 462 7th Ave., but Kort Lee Frock (also spelled Kortlee and sometimes with a hyphen, Kort-Lee) were never located at this address. At least, I have not been able to locate them here in city directories or the telephone directory. They were located at 1370 Broadway (1924-1927), 525 7th Ave. (1927-1933), and 498 7th Ave. (1934-1937). The last address is only a block further up 7th Ave., between 36th and 37th St. Possibly they were in both locations at the same time but only listed one in the phone directory...
< previous || next > index map signs by date signs by name see what's new