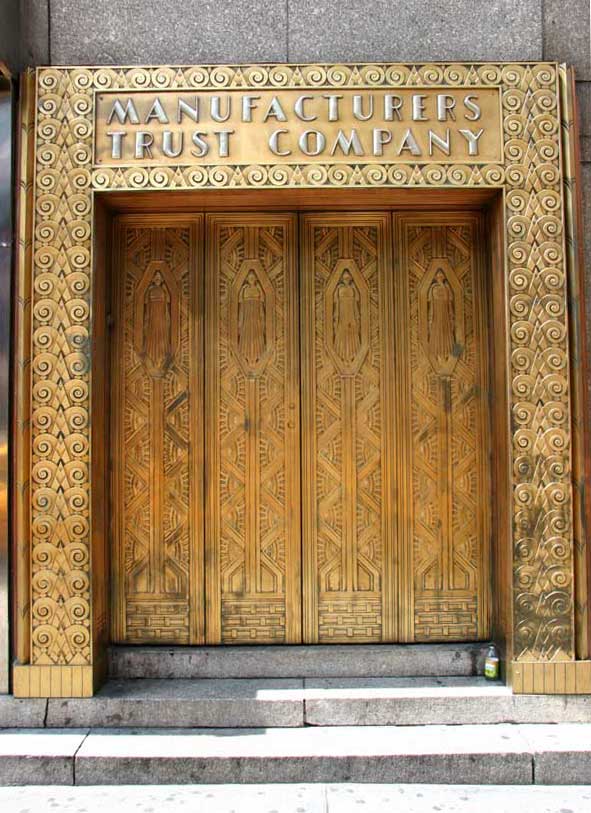 Manufacturers Trust Co., 481 8th Ave. near 34th St. (2011)
This doorway in the New Yorker Hotel led to a branch bank of the Manufacturers Trust Co. located here from 1918 to 1988.
Manufacturers Trust Co. was chartered as the Citizens Trust Company of Brooklyn in 1905, merged with the Manufacturers National Bank of Brooklyn in 1914, changed its name to Manufacturers-Citizen Trust Company in 1914, and changed its name again to Manufacturers Trust Company in 1915. Manufacturers Trust Co. then became Manufacturers Hanover Trust Company many years later in 1961.
This ad from 1923 shows five Manhattan branches for the bank (including 481 8th Ave.) along with another branch in the Bronx.
This ad from 1920 specifically refers to the branch at 481 8th Avenue corner of 34th St.
A later branch was located on the corner of 43rd St. and 8th Ave. (681 8th Ave.). An obscure remnant of a Manufacturers Trust Company sign on this corner was still visible in 2011 (click for image). This branch was in business from 1928 to 1993.
A Bronx branch of Manufacturers Trust was located at 1536 Westchester Ave. on the corner of Boynton Ave. This was the Soundview Branch of Manufacturers Trust from approximately 1930 until the mid-1990s. The florid inscription, MT CO, can still be found on this building, which is now (July 2016) a Chase Bank branch.
< previous || next > index map signs by date signs by name see what's new