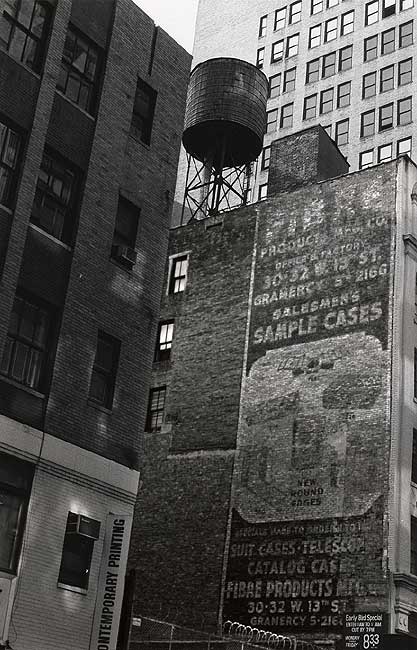 Fibre Products Mfg. Co., 120 W. 31st St. between 6th and 7th Aves. (1989)
Although the sign refers to Office & Factory at 30-32 W. 13 St., this sign was on 31st St. between 6th and 7th Aves.
Below the pictures of sample cases, etc. at the bottom we have:
SPECIALS MADE TO ORDER ...
SUIT CASES - TELESCOPE
CATALOG CASES
FIBRE PRODUCTS MFG. CO.
30-32 W. 13th ST.
Gramercy 5-2166
Below some of the sample cases are numbers 756, 228, 500, etc., probably product item numbers. And at the bottom of the cases are the words NEW ROUND EDGES. Click here for some of this detail.
The fibre products made by the Fibre Products Manufacturing Co. were primarily sample cases. They were in business (president Irwin M. Ikelheimer) from the early 1920s at several downtown New York locations before landing on West 31st St. They were at this location between 1933 and 1942, then moved to 30 W. 13th St. where they stayed until the early 1960s. The sign, then, dates in this range, early 1940s to 1960s.
Fibre Products became a division of Ikelheimer-Ernst Inc. (the same Irwin M. Ikelheimer as the 1920s? CEO in 1960 was Alan R. Ernst) in the early 1960s and moved to 601 W. 26th St., where they were in business until the late 1990s.
< previous || next > index map signs by date signs by name