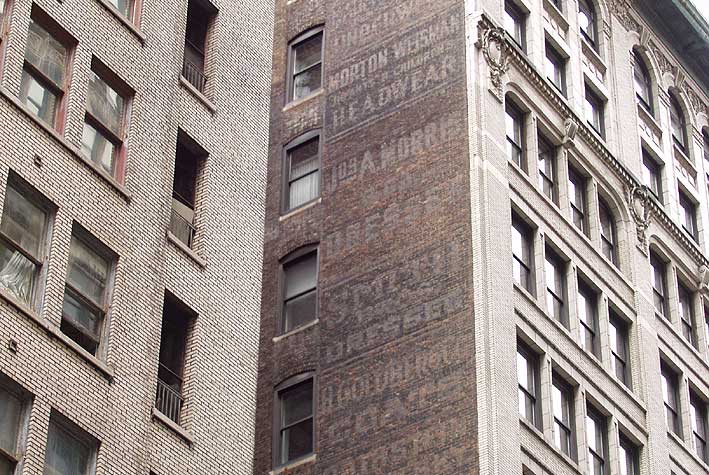 Morton Weisman, etc., 112 Madison Ave. at 30th St. (2003)
KAUFMAN BROS / UNDERWEAR
MORTON WEISMAN / INFANTS' & CHILDREN'S / HEADWEAR
JOS. A. MORRIS / & CO. / DRESSES
SMITH BROS. / DRESSES
H. GOLDBERG CO. / COATS
ROTHSTEIN / & PITOFSKY / CLOAKS & SUITS
A. S. ROSENTHAL / SILKS
Morton Weisman (1875-1942) appears in the U. S. Census for 1920 as age 44, Manufacturer Children's Headwear, living with his wife Bertha L., 40, and two sons Ira L., 16, and Harold M., 10, at 255 West 108 St., Manhattan. He began in the hats & caps business around 1905. In the 1930 Census he is age 55, Manu. Childrens Hats, living at 213-4[?] West 81 St. His business was located at 121 W. 27th St. from 1912 to 1927. He moved to 112 Madison Ave. in 1928 and left two years later. So this sign dates from 1928-29. Also an officer in the business was Morton Weisman's brother-in-law, David Jerome Rosenheim (1875-1947). Rosenheim married Weisman's sister, Sadie Weisman. There is another Morton Weisman sign on the west wall of this building. Morton Weisman stayed in business until the mid-1930s.
===========================================================================================
Joseph A. Morris & Co., silk waists and dresses, was located in this building from 1913 to 1920. Joseph A. Morris (1861-?) began manufacturing ladies' waists in 1896, was located at 580 Broadway from 1899 to 1907, at 71 5th Ave. from 1908 to 1912, and moved from 112 Madison Ave. to 500 7th Ave. in 1920/21. By 1920 presidency of the company had been assumed by Joseph A.'s son, Melville Abraham Morris (1888-1981). Melville Morris, living in New Rochelle, NY, gave his occupation in the U. S. Census of 1930 as "Dress Mfg," but Joseph A. Morris & Co. seems to have closed for business around 1929.
===========================================================================================
The Smith Bros., ladies dresses, moved in about the time Jos. A. Morris left (1921), then moved out just a few years later (1924/25) to W. 38th St. Earlier they were located at 130 W. 25th St., but I have not been able to make out any remnant of a Smith Bros. sign on 25th St. These Smith Brothers were not the guys who made the cough drops, but Meyer Smith (1887-?) and Samuel Smith (1892-?), both immigrants from Russia. They were in the ladies dress business until the early 1930s.
===========================================================================================
H. Goldberg Co. (Hyman Goldberg), coats, were here from 1918 to 1922. They moved to 205 W. 39th St. in 1923. Hyman Goldberg was born in Russia ca. 1869 and immigrated to the U. S. 1892/93. He appears in New York city directories in partnership with Bernard Lowenstein as Goldberg, Lowenstein Co., 311 Grand St. in 1908. Bernard Lowenstein was also an immigrant from Russia (born ca. 1874, immigrated 1882?). Goldberg, Lowenstein lasted from 1908 to 1914. H. Goldberg Co. started around 1910 and ran until 1931. They were located at 22-24 W. 26th St. when this ad appeared in Fairchild's Women's Wear Directory, Spring 1918. In July, 1919 this ad shows them at 112 Madison Ave.
===========================================================================================
Just above Morton Weisman is a faded sign for Kaufman Bros / Misses & Childrens / Underwear (click for image). The brothers were Samuel Kaufman (1885/86?-?) and Sandor Kaufman (1887-1950). Sandor Kaufman registered for the World War I draft as being born 4 April 1887 in Krompach, Hungary. Krompach is the small town of Krompachy, now in the Slovak Republic. Sandor immigrated to the U. S. in 1903 at the age of 16, arriving 25 August aboard the steamship Kroonland. The ship's manifest states that his passage was paid by his brother, but whether this was Samuel or another brother I don't know. Samuel Kaufman, with a far more common name, is much harder to identify in available sources. He appears in the U. S. Census of 1930, age 44, living in Mt. Vernon, NY. His occupation is given as "Manufacturer Childrens Underwear." Sandor's obituary in the New York Times, 31 March 1950, p. 30, reads in full "SANDOR KAUFMAN Special to THE NEW YORK TIMES. YONKERS, March 30 - Sandor Kaufman, of 46 Lewis Parkway, retired manufacturer of children's underwear, died yesterday in Yonkers General Hospital. His age was 62." Kaufman Bros. was in business approximately 40 years, 1912-1952. They were located here at 112 Madison Ave. from 1926 to 1930.
===========================================================================================
Below H. Goldberg on this wall is a sign for Rothstein & Pitofsky, Cloaks & Suits (Click for detail). Louis Rothstein (ca.1868-?) was born in Russia and immigrated to the U. S. ca. 1890. Aaron Pitofsky (ca.1870-?) was also born Russia/Poland and immigrated about the same time as Louis Rothstein. Rothstein & Pitofsky was founded around 1902 at 46 W. Houston St. A third partner in the business was Charles Hagop Kondazian (1874-1941). Kondazian was a native of Armenia and immigrated in 1891. His father, Hagop G. Kondazian, was a feather dyer in the flower business in 1910. Charles Kondazian eventually took over Rothstein & Pitofsky. They were located here at 112 Madison Ave. from 1916 to 1919. The business name changed to Kondazian & Pitofsky in 1920, then to Charles Kondazian Inc. in 1921. A sign for Chas. Kondazian appears in a 1928 photo that shows the west wall of 112 Madison Ave. This is found on the New York Public Library's Digital Collections. Also working in the clothing business was Aaron Pitofsky's son, Louis Pitofsky (1892-1977). In 1925 he was president of Lefkowitz & Pitofsky Inc., a women's wear manufacturer. In 1942 he registered for the World War II draft when employed at MacKenna Clothes, 100 5th Ave.
===========================================================================================
At the bottom of this stack there is a sign reading Silks (horizontally), then (vertically) A S Rosenth (click for detail). This is a sign for A. S. Rosenthal & Co., silk importers. Rosenthal was Abraham S. Rosenthal (1853/54-1938), an immigrant from Germany ca. 1870. His first entry in the New York city directories comes in 1886 when dealing in imported silk goods at 89 Grand St. The company was called A. S. Rosenthal & Co. at that time, a name it retained until going out of business in 1932. They were located here at 112 Madison Ave. for 15 years (1913 to 1927). Prior to this location A. S. Rosenthal spent 20 years (1893-1913) at 45 Greene St. (between Grand & Broome).
This is an ad for A. S. Rosenthal at 112 Madison Ave. Dated 1926, it reflects 51 years of glowing splendor!
In August 1901 a series of news reports began to appear in The New York Times regarding fraud in customs duties on imported silk. An inspector at the New York Customs House, Charles C. Browne, was suspected of under reporting the weights of silk being imported by A. S. Rosenthal & Co. Some of these reports spoke of amounts as high as a $2,000,000 owed the government. In April 1903 a federal grand jury returned indictments against Browne, Rosenthal and Martin L. Cohn (1864-1933), a partner at A. S. Rosenthal. In Jan. 1904 Rosenthal forfeited bail, having left the country for Europe. The trial of Browne & Cohn began shortly thereafter, which resulted in guilty verdicts for both men in Feb. 1904. Browne was sentenced to two years in prison, but Cohn was afterward cleared. Meanwhile, Rosenthal stayed out of the country until 1914, when he voluntarily surrendered, pleaded guilty and was given only a slap on the wrist (a $10,000 fine).
An early partner with Rosenthal was Jonas Honigsberger (1846-1892). He appears in the 1880 U. S. Census living with his father & mother at their home on Geary St. in San Francisco. His father, Louis Honigsberger, an immigrant from Hannover, Germany, was a tobacco merchant. Jonas Honigsberger was in business with Rosenthal as early as 1886/87, and he died June 25, 1892 in Yokohama, Japan while on business for A. S. Rosenthal & Co. at their offices in Japan.
Another early partner was Samson Fried (1847-1913). Samson Fried was an immigrant from Bavaria and is found in the U. S. Census of 1880, age 33, living in Uniontown, Alabama, with his wife, Helen (née Helen Long), and their 2-year-old son, Gustav Adolphus. The Fried family is also found on the ship manifests of the SS Saale sailing from Bremen, Southampton and Cherbourg in 1892 and 1896. By this time there are several additional children, who travel with their father and mother. On both voyages the Frieds are accompanied by a servant, no doubt to help take care of young Gustav, Edward, Jerome, Arthur, Irma and Walter. Samson Fried was associated with Rosenthal from 1888 until around 1901. The company was called A. S. Rosenthal & Fried from approx. 1899 to 1901. By 1903 Fried had left Rosenthal and became a manager at a competitor, H. Mendelson & Co. In 1907 H. Mendelson & Co. became Fried, Mendelson & Co. Fried, Mendelson & Co. were in business at 23 Greene St. from 1906 to 1912, then at 221 Fourth Ave. from 1912 to 1928/29. Following Samson Fried's death, an officer at Fried, Mendelson & Co. was one of his sons, Edward Samson Fried (1880-1931).
Henry Mendelson (1862-1934) was one of at least 4 brothers who constituted Mendelson Bros., silk importers, at 93 Grand St. in 1890. He appears in the U. S. Census of 1880, age 18, living with his father, a tailor, and mother, who were immigrants from Oldenburg, Germany. Mendelson Bros. gave way to H. Mendelson & Co. in 1899, and then Mendelson joined with Samson Fried to form Fried, Mendelson & Co. in 1907. Fried, Mendelson survived until 1928/29. From 1912 the company was located in the American Woolen Building, 221 Fourth Ave. Mendelson's obituary in The New York Times, 12 Jan. 1934, p. 23, describes Fried, Mendelson & Co. as "pioneer silk manufacturers of the United States and Yokohama" and says that Mendelson's "father was the first American to establish silk plants in Yokohama."
By 1929 Fried, Mendelson & Co. had been succeeded by E. S. Mendelson & Co.. E. S. Mendelson was Eugene Sidney Mendelson (1876-1969). He moved the business to 153-159 Madison Ave. in 1929: "E. S. Mendelson & Co., Inc., has moved from 221 Fourth avenue to larger quarters at 153-159 Madison avenue, at the northeast corner of 33d street. The firm was located at the Fourth avenue address for many years, and until recently was known as the Fried Mendelson Co., this firm, as noted, having dissolved, and Mr. Mendelson establishing his own company to carry on the business" (Women's Wear Daily, 24 December 1929). E. Sidney Mendelson was born in Detroit, Michigan, and I have not been able to establish his relationship to Henry Mendelson (possibly a cousin).
===========================================================================================
This is the south wall of 112 Madison Ave., viewed from Madison Ave. For the west wall of this same building click here.
< previous || next > index map signs by date signs by name see what's new