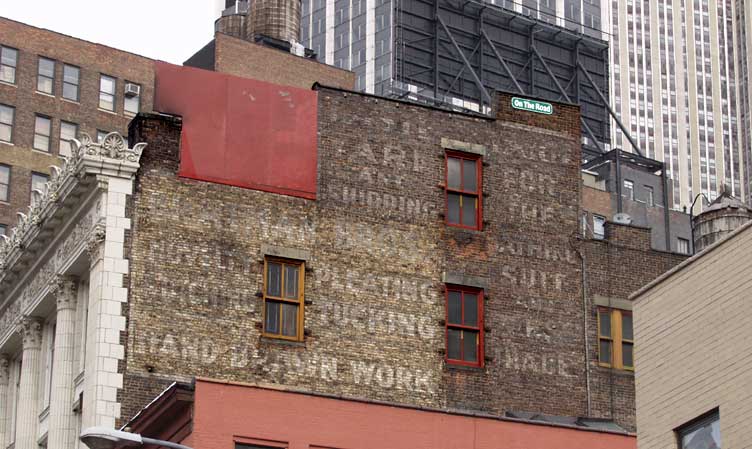 Bratman Bros., Hand Drawn Work, 838 6th Ave. bet 29th and 30th Sts. (2003)
Lastex Yarn / Yarn and Shirring / For the Bathing Suit and Dress Trade /
Bratman Bros. / Novelty Pleating / Stitching Tucking / Hand Drawn Work
Samuel Bratman and Barnet Bratman (1899-1979, born Russia, immigrated 1913) moved their pleating, stitching and tucking business to 838 6th Ave. in 1929. They stayed in business at this location for over 50 years (until the early 1980s). See ad for "hemstitchers" from 1944.
Lastex Yarn seems to have been a speciality of this company. Barnet Bratman is listed in the New York telephone directories from 1941 until the early 1980s as "Bratman Barnet lastex." Lastex is defined as "yarn that has an elastic core wound around with cotton or silk or nylon or rayon threads" at HyperDictionary.com. Lastex was registered as a trademark in 1931 by "Adamson Bros. Co. composed of James H. Adamson and Percy Adams, 104 W. 40th St., New York, NY."
This sign has deteriorated a lot over the years. Compare with 1991 image in black and white.
An even earlier image available at the New York Public Library's Digital Collections shows a different version of this sign. Dated 1939, the NYPL image reads the same on the left, but has Alfrank / Sewing / Machine / Corp / Special / Machines / Built on the right. The sign in its current form, then, dates 1940 or later.
< previous || next > index map signs by date signs by name see what's new