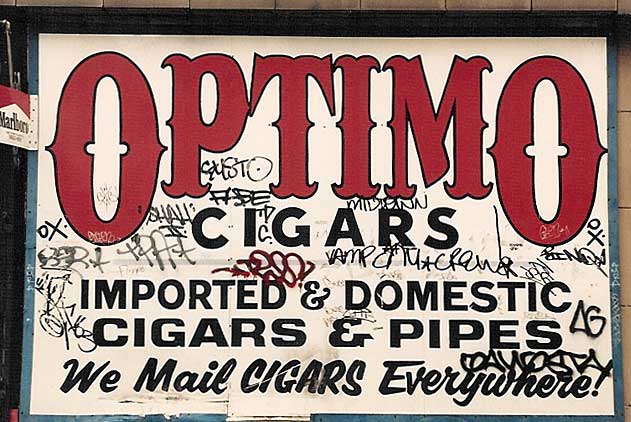 Optimo, 29th St. at 5th Ave. (1987)
Optimo Cigars date from 1898. The trademark was registered (in 1964) by Universal Cigar Corp., 745 5th Ave., New York, NY.
Optimo was a popular cigar brand manufactured by A. Santaella & Co.. Mostly they manufactured from a factory in Tampa, Florida. The owner was Antonio Santaella (1863-1948), an immigrant from Spain. According to a passport application from 1920 Antonio Santaella was born in Spain 8 January 1863, and immigrated to the US, sailing from Havana, Cuba, October 1880. He became a naturalized citizen in Kings County, Brooklyn, 9 February 1886. On his death in 1948, the following appeared in the New York Herald Tribune, 29 January 1948, pg. 20, "Tampa, Fla., Jan. 28. - Antonio Santaella, eighty-five, owner of the Optimo Cigar Company of New York, died Sunday night in a hospital here. A native of Seville, Spain, Mr. Santaella came to the United States at the age of seventeen and entered the cigar business. He had factories in Tampa and Clearwater Fla. Surviving are his wife, Mrs. Winifred Santaella; two daughters, Mrs. Lucille S. Cueva and Mrs. Consuela S. Hagen, of New York; and two brothers and a sister in Havana, Cuba." On the same date the New York Times had "A funeral service for Antonio Santaella, president of the Optimo Cigar Company of this city, will be held this morning in Tampa, Fla., where he died Sunday night at the age of 85. Born in Seville, Spain, he came to this country at 17 and six years later established his cigar business."
This ad for Optimo All Havana Cigars appeared in the Chicago Daily Tribune in 1902.
This somewhat later ad from 1909 mentions the A. Santaella Office at 1181 Broadway in New York City.
As of 2016 the Santaella factory in Tampa, Florida, still stands as a landmark in that city. The website http://cigarcitymagazine.com tells some of the Santaella history, including, "The four-story, red brick building still stands at 1906 N. Armenia. It was built in 1904 after a fire destroyed the previous structure. Since this was the second time a fire had occurred, its owners decided to use a different plan when rebuilding. When Antonio Santaella from Seville, Spain and Sol Hamburger from Bavaria built a third time, they purchased the entire block and built the factory in the middle. The last fire had jumped from one building to another, and Mr. Santaella did not want this to happen again. He later was able to convince the city to build a fire station behind his factory and another safeguard was in place. Their new factory was one of the largest and most efficiently equipped in the city. Santaella and Hamburger had a long history in the business. They began manufacturing cigars in 1886 and had factories in Key West before coming to Tampa. Between 1918 and 1919, Santaella produced over forty-five million cigars and in 1946, they opened a factory in Clearwater, Florida. That operation was eventually closed, and in 1955 the factory on Armenia was sold to Universal Cigar Corporation."
The Optimo sign is what is known as a privilege sign, defined as follows on wikipedia, "A privilege sign is a retail store sign provided by a manufacturer, with the manufacturer's branding on it. The signs were provided to the store at no cost, in return for the manufacturer's advertising on the sign. Examples include Coca-Cola signs, and painted signs on sides of shops."
The website http://www.6sqft.com has a great deal more on privilege signs, including this regarding Optimo, "Another great example of Privilege Signs in New York City are the ones provided by the Optimo Cigar Company. Optimo was founded by Antonio Santaella, who was originally from Andalucia, Spain and became a cigar maker in Cuba during the 1870s. In 1886, he moved to Chicago to open his own factory, which manufactured many popular brands of cigars including Optimo, Marquette Club, Remorador, and Flor de Cervera. Optimo was the favorite cigar brand of Babe Ruth, and the company prospered in the 1950s and began providing Privilege Signs. Privilege Signs are an industry term for the promotional signs installed by large corporations such as Coca-Cola and the Optimo Cigar Company. They were popular in the 1930s through the 1960s and received their name because store owners were given the "privilege" of completing the sings with their own copy. .. The signs were not only given free to store owners, but they also brought people into the store with instant brand recognition."
The corner of 29th Street and 5th Avenue is 264 5th Avenue. A cigar store called Fifth Avenue Tobacconist was located here from around 1935 to the early 1990s. Probably it was they who mailed cigars everywhere!
< previous || next > index map signs by date signs by name