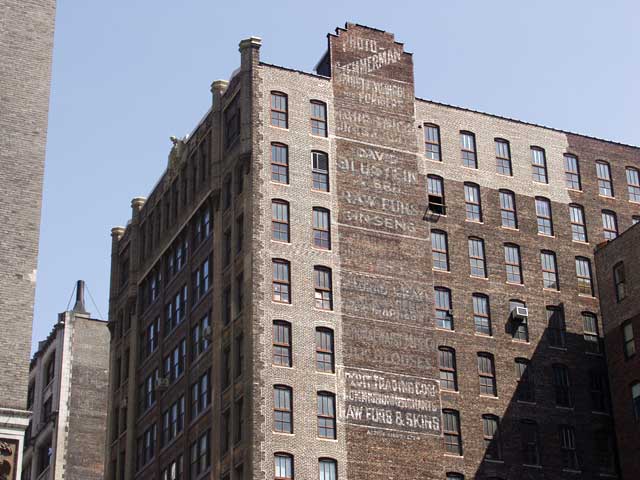 Stemmerman, Blustein, etc., 158-164 W. 27th St. (2003)
An interesting stack of signs with Photo Stemmerman at the top, but David Blustein catches all the attention with his combination of Raw Furs and Ginseng.
David Blustein & Bro. was founded around 1905 by the brothers David Blustein and Isadore Blustein. Isadore Blustein (1868-192?) was the older brother who lived in West Virginia (David Blustein & Bro. had an office in Charleston) from as early as 1907 until at least the mid-1920s. This advertisement for Blustein appeared in the trade magazine, Hunter-Trapper-Trader, Dec. 1905, announcing their opening on Mercer St., New York City. It also gives the home address in Charleston, W. Va., and the address of a branch in Bristol, Tenn. David Blustein (1874-1932) was born in Triski, Russia, immigrated in 1891, was naturalized (in Charleston, West Virginia) in 1896, lived in Manhattan (West End Ave. in 1920) and later on Long Island (Hempstead in 1930). The business was located here at 158-164 W. 27th St. from 1913 until 1948. In 1940 the name was changed to Blustein Furs. This advertisement for David Blustein & Bro. appeared in the monthly Fur News, vol. 23, no. 1, Jan. 1916. A letter with the Blustein letterhead was attached to a passport application made by David Blustein in 1920. This refers to the branch office in Charleston, West Virginia, and to exporting ginseng and other botanical roots. A photograph sent to me by Dennis A. Stone, a grandson of David Blustein, shows David (the man at the far right) and two other men gazing at a large pile of ginseng. The photo may have been made in the company offices at 158-164 W. 27th St. (click for image). In 1945 Dennis Stone's father was serving in the U. S. Army in Frankfurt, Germany, when he annotated this price list of Blustein offerings for raw furs. The annotation reads, "I was in contact with my office by cable and air mail. I wrote this price list from Frankfort." Dennis notes, "He was apparently running the business in 1945 while serving in the Army." The verso expands on various offers, including prices for ginseng.
Photo Stemmerman at the top refers to the Stemmerman Photo Craft Laboratories located here from 1913 to 1918. William H. Stemmerman (1867-1951) was a druggist and physician in Passaic, New Jersey, and the original Stemmerman Photo-craft Laboratories was located in that city from around 1911. Stemmerman retired from his businesses before 1920. (He appears in the US Census of 1920 living in Pasadena, Calif. with employment listed as "none.") The New York branch of the photo lab re-located to the east 20s in 1918, and Joseph G. Taylor (1891/92-?) became the owner. In the early 1930s the name changed to Taylor Photo Co. By then they were located at 117 E. 24th St., home to Leonard Furniture; Joseph Fleischer, Hair Goods; and others. Taylor Photo remained at 117 E. 24th St. until the mid-1960s.
Also on this wall is National Waist Mfg Co / Silk Blouses (click for image). National Waist Mfg. Co. ran from 1913 to 1921. They were located here at 158 W. 27th St. from 1918 to 1921. Proprietors were Joseph Mirman (1860-?) and his son, Louis Mirman (1886-1959). Both men were immigrants from Russia ca. 1892. Joseph Mirman was in the candy store / stationery business from around 1900. He was also a drygoods merchant, with stores adjacent to each other at 1054 and 1056 2nd Ave. (between 55th and 56th Sts.). 1056 2nd Ave. was also the family home from around 1903 to 1923. Louis Mirman worked in these businesses around 1907-08, then got into clothing manufacture. Louis Mirman was probably the more active partner in National Waist Mfg. Co. After that company closed, he was a partner at Edora Children's Dress Co. (later called Edora Garment Co.), which ran from 1923 to 1934. In 1942 when Louis Mirman registered for the World War II draft, he was employed at Exclusive Sportswear Corp., 142 W. 36th St. Exclusive Sportswear was in business from around 1939 to 1956. Another Mirman who worked at National Waist Mfg. Co. was Harry Mirman (1898-1971), a younger brother of Louis Mirman. The Mirmans were also in business as the Arlington Dress & Costume Co. from 1915 to 1920. Presumably Arlington manufactured women's dresses while National Waist specialized in blouses.
Below National Waist Mfg. is a sign for Credit Trading Corp / Commission Merchants / Raw Furs & Skins (click for image). Credit Trading Corp. seems to have been primarily a financial institution founded by furriers, who had a "furs and skins" department located here in the late 1920s. Officers in the company were Simon J. Steiner, Raymond H. Papernow, and Abraham H. Appelbaum. Simon Joseph Steiner (1881-1960) registered for the World War I draft while employed as "Credit Man Office Manager" at his father's business, Joseph Steiner & Bros., furriers, 115 W. 30th St. In 1942 he registered for the World War II draft, age 60, when he gave his employer as Chest & Foundation of the Fur Industry. On his death in Aug. 1960, the Fur Trade Foundation placed a notice in the New York Times citing him as "one of the founders of our organization." Raymond H. Papernow (1899-1974) appears in the U. S. Census of 1930 as an immigrant from Russia in 1920. His Social Security Death Index record states that his social security number was issued in Illinois before 1951 and gives his last place of residence as U. S. Consulate, London, United Kingdom. His name appears on the passenger lists of approximately 15 ships and airplanes returning to New York from Europe between 1924 to 1957. Abraham H. Appelbaum (1878-1946) was a native New Yorker. Like Simon Steiner, he registered for the World War I draft while employed at Joseph Steiner & Bros. He is found in the U. S. Census of 1920 living at 1845 Park Place, Brooklyn, with his wife Mary and three daughters, Gertrude, Rose and Viola.
Credit Trading Corp. was in business from 1925 to 1938. Most of this time the main office was located at 128 W. 31st St. The "furs & skins" department was located at 158 W. 27th St. from 1928 to 1929.
< previous || next > index map signs by date signs by name see what's new