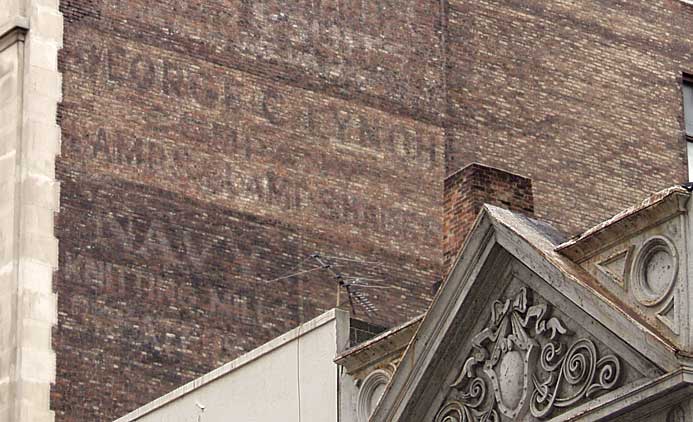 George C. Lynch, 236-238 5th Ave. near 27th St. (2003)
GEORGE C. LYNCH
COMPANY
LAMPS & LAMP SHADES
George C. Lynch was in business with Archibald Notman at Lynch & Notman, brass goods and furniture dealers from around 1905 at 23-27 East 21st St. This company moved to West 24th Street a few years later and continued there until around 1908/09 when the partnership separated. Notman became A. H. Notman & Co. Furniture, and Lynch became the George C. Lynch Co. Brass Goods.
Lynch opened originally downtown on West Broadway. This advertisement appeared in The Craftsman, a monthly magazine, Sept. 1908. Shortly after, Lynch moved to 333 4th Ave., where he was located until 1916. In 1916 Lynch moved to the 5th Ave. address above, specializing in brass lamps and lamp shades. They remained here until closing for business around 1922/23.
This sign, then, dates in the narrow range 1916 to 1922.
Below Lynch on this wall is a sign for Navy Knitting Mills Sweaters. They were located here from approximately 1918 to 1923. This company seems to have begun on Canal St. in 1916 when Irving Fain (1891-1985) was treasurer. Irving Fain was one of the three sons of Simon Fain (1867-1957), who had his own career in the knitwear business. On his death, the New York Times, 18 Nov. 1957, wrote: "Simon Fain, who retired in 1935 as president of the Fain Knitting Mills, died yesterday in the Gramercy Park Nursing Home, 237 East Seventeenth Street. His age was 90. When he came to the United States from Latvia in 1893, he brought with him machinery with which he and his brother, the late Edmund Fain, set up Fain Brothers Mills on Johnson Avenue in Brooklyn. The company went out of business at Mr. Fain's retirement. Mr. Fain's survivors include three sons, Irving, Max and Benjamin; three daughters, Mrs. Sarah Klausner, Mrs. Olive Stein and Mrs. Rose Kanfer; twelve grandchildren and eleven great-grandchildren."
Simon Fain's other two sons, Max Fain (1895-1964) and Benjamin Fain (1900-1985), were also involved in the knitwear business. Around 1922 Fain Knitting Mills set up a chain of retail outlets for their products. These stores appear in directory lists through 1927 under the names Famous Textiles Inc., Fain Knitting Mills, and the Famous Fain Company. However, the business was in receivership by 1925, as described in the Times, 27 Dec. 1925, pg. E9, "The Famous Fain Company, Inc., knit goods manufacturers, with a chain of stores in New York City and Newark, N. J., was placed in the hands of a receiver yesterday by Federal Judge John C. Knox. ... The Famous Fain Company, in its advertising matter, has described itself as 'the largest business of its kind in the world.' It has stores at Thirty-fourth Street and Broadway, 203 Broadway, 571 Fulton Street, Brooklyn; 500 Fifth Avenue, 124 West 125th Street and at 635 Broad Street, Newark, N.J. ..."
Navy Knitting Mills had its own bankruptcy proceedings in 1923. As reported in Women's Wear, Wednesday, 5 Dec. 1923, pg. 3, "It is planned to bring about an immediate reorganization of the business of the Navy Knitting Mills, Inc., 236 Fifth avenue, for which Henry B. Singer, of Moses & Singer, attorneys, was appointed receiver this morning, following the filing of an involuntary petition in bankruptcy against the concern. ..." Apparently the purchase of the Monarch Knitting Mills factory in Buffalo, NY, overextended the resources of the company, and they were not able to recover.
Additional information was provided the next day in Women's Wear, Thursday, 6 Dec. 1923, pg. 3, "In order to expedite the proposed reorganization of the Navy Knitting Mills, Inc., of 236 Fifth avenue, petitioned into bankruptcy yesterday, as noted, steps have been taken by David C. Myers, of Myers & Kutner, attorney for the company, to check up the figures of liabilities and assets and determine the exact condition of the business. ... When asked as to the connection, if any, between the Navy Knitting Mills, Inc., and the Fain Knitting Mills, Inc., Mr. Myers replied that the only connection between them is that the Fain Knitting Mills, Inc., purchased merchandise at a profit from the Navy Knitting Mills, Inc., and paid for the same like any other purchaser. Counsel declared that from 1916 to 1922 Irving Fain was the active head and president of the Navy Knitting Mills, Inc., but that when he became interested in the Fain Knitting Mills, Inc., and started that enterprise, he resigned and severed his connection with the Navy Knitting Mills, Inc., and transferred all of his stockholdings to I. A. Jaspan, who became vice-president of the Navy Knitting Mills, Inc., and was placed in active charge of the business. The present difficulties of the Navy Knitting Mills, Inc., was attributed by Mr. Myers to the purchase of a large plant in Buffalo, known as the Monarch Knitting Mills, in which, he said, about $500,000 had been spent. ..."
This image in a Navy Knitting Mills ad from the New York Times in 1920 represented 236-238 Fifth Avenue as if it were the Navy Knitting Mills Building.
< previous || next > index map signs by date signs by name see what's new