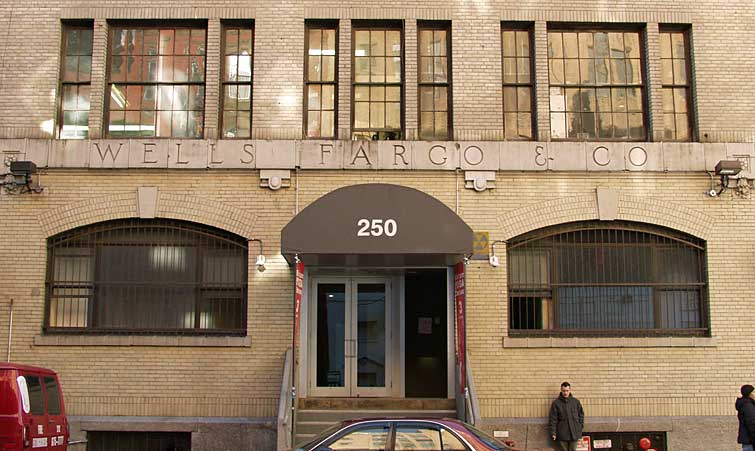 Wells Fargo & Co., 250 W. 26th St. (2003)
The architectural firm of La Farge & Morris designed this building for Wells Fargo & Co. Begun in 1910 and completed in July 1911, the building served Wells Fargo's express operations until 1918. At that time Wells Fargo Express was forced by wartime measures to consolidate its domestic express operations with several other major express companies, resulting in the formation of the American Railway Express Co. (later Railway Express Agency).
Christopher Grant La Farge (1862-1938), eldest son of the American artist John La Farge (1835-1910), is best known in New York for creating the original design, with George Lewis Heins, of the Cathedral Church of St. John the Divine on Morningside Heights.
Wells Fargo & Co. was formed as a banking and express business by Henry Wells (1805-1878) and William George Fargo (1818-1881) in 1852. These two, with John Butterfield (1783-1869), had founded the American Express Co. in 1850. Opportunities created by the California gold rush prompted Wells and Fargo to create their new firm to provide express and banking services to California. The first office opened in San Francisco July, 1852. Wells Fargo developed its own stagecoach business, helped start and then took over the Overland Mail Co., and participated in the Pony Express.
William George Fargo's entry in the National Cyclopaedia of American Biography, vol. 12, 1904, reads in part, "Fargo, William George, founder of the American Express Company, was born at Pompey, Onondaga Co., N. Y., May 20, 1818, eldest son of William C. and Tacy (Strong) Fargo, grandson of William and Mary (Congdell) Fargo, great-grandson of Moses Fargo, who emigrated from England about 1680 and settled at New London, Conn. ... In January 1844 an express line from Buffalo to Detroit, via Cleveland, was organized by Henry Wells, Daniel Dunning, and William G. Fargo, under the firm name of Wells & Co. ... Mr. Dunning withdrew from the firm in 1845, Mr. Wells disposed of his interest to William A. Livingston, and the firm was changed to Livingston & Fargo. In 1850 [various interests] were consolidated into the American Express Co., of which Mr. Fargo's former partner, Henry Wells, became president and Mr. Fargo secretary. In 1869 ... Mr. Fargo was elected president. In the meantime (1851) he and his associates had organized an express service between New York and San Francisco under the name of Wells, Fargo & Co., which soon spread its operation over the entire Pacific coast and the interior of California and Nevada, and also established a large banking business."
Wells Fargo & Co. Express moved to New York in 1904. In 1905 the company separated its banking and express operations. The banking and financial services of Wells Fargo continue to exist (as of August 2004). More can be found at About Wells Fargo.
< previous || next > index map signs by date signs by name see what's new