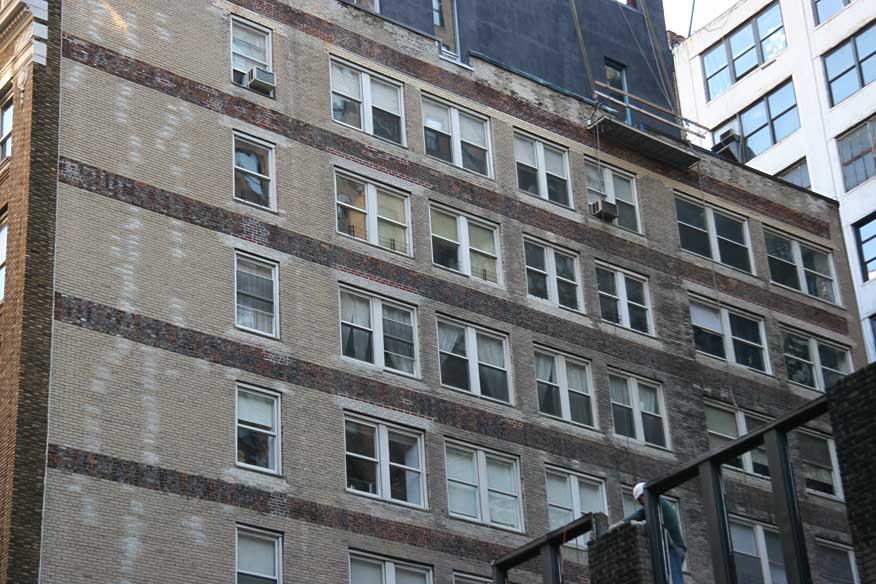 Brucker & Biderman, etc., 146-150 W. 26th St. (2007)
The narrow strips of dark brick on this wall carry signs for:
Saretsky Co Raw Furs (click for detail). In October 1924 Victor Saretsky (1884-1976) lived at 3 Park Place, Mount Vernon, Westchester County, New York, when he applied for a passport to travel to England and France on commercial business for himself. On the application he declared that he was in business for himself at 150 W. 26th St., that he was born in Vilnia, Russia, 2 April 1884, and that his father, Israel Saretsky, had emigrated from Russia in May 1883 and had become a naturalized citizen of the U. S. 6 Aug. 1902. Vilnia is what is now known as Vilnius, Lithuania. The same Victor Saretsky registered for the World War I draft in 1918, declaring that he was born 1 April 1884 and that he was a furrier in business for himself at 55 W. 25th St., New York City. He is found in the three successive U. S. Census reports of 1910 to 1930 ages 26, 36, and 45. In the 1930 Census he still lived on Park Place, Mount Vernon, N. Y. His business began around 1908 on E. 8th St. then moved several times before settling at 55 W. 25th St. in 1915. This advertisement for Saretsky appeared in Fur News, Jan. 1917, when they were located at 55 W. 25th St. Saretsky & Co. stayed at this address until 1923, when they moved to 146-150 W. 26th St. They were at this address until 1928, when they moved again. The business survived nearly another fifty years (1931 to 1976) at 208 W. 29th St. and closed finally on Saretsky's death in 1976.
Samuel Kahn Furs & Skins (click for detail). Samuel Kahn (1883-1944), furrier, appears in the 1910 U. S. Census living on E. 51st St. with his wife, Rose, and 4-year-old son, Lawrence. At this time he had a partnership with Joseph Baskin (1876-?), Kahn & Baskin, which ran from around 1906 to 1915. By the time of his registration for the World War I draft in 1917 Kahn had his own business, Samuel Kahn, Furs, at 21 W. 39th St., and he was living in Far Rockaway, Queens. In the 1920 census the Kahns lived at 1383 Mott St., Far Rockaway. Lawrence was then 13 years old. Samuel Kahn, Furs, was located here on 26th St. from 1923 to 1925. The business name became Samuel Kahn & Son in 1929. Lawrence Kahn (1905-1980) was a vice president in 1933. They stayed in business until the mid-1950s. For Kahn's early partner, Joseph Baskin (1876-?) see the Kahn & Baskin sign at 28-30 W. 25th Street.
Brucker & Biderman Fur (click for detail): Founders of Brucker & Biderman were Benjamin Brucker (ca.1863-?) and Irving Biderman (1895-1976). The partnership lasted from approx. 1923 to 1927, and the business was located here at 146-150 W. 26th St. during that period. Benjamin Brucker was an immigrant from Russia in 1906. His name is among the passengers on the SS Batavia sailing from Cuxhaven, Germany 11 Aug. 1906 and arriving in New York 24 Aug. 1906. He is accompanied by his wife, Gaye, and their 3 children: Victor, age 10, Elias, 9, and Minna, 7. Irving Biderman was born in Warsaw, Poland, and he registered for the World War I draft in 1917 while working as sales manager at Carl Dernburg & Son, 134 W. 27th St. Dernburg were manufacturing furriers with headquarters in Chicago. Irving Biderman was also in partnership with Jerry Socol (1893-1947) as Socol-Biderman Corp. at 150 W. 30th St. (1937-1939) and 372 7th Ave. (1940-1945). In the 1925 listing for Brucker & Biderman in Polk's New York City Directory, Brucker's name does not appear as an officer in that company. Instead, Harry L. Zeeman is president. Brucker has only a listing for his home address, 62 W. 124th St. Zeeman was Harry Lester Zeeman (1878-1966). His petition for naturalization in 1906 states that he was born in Russia and immigrated in 1896. He had his own business, Zeeman Fur Coat Co. (also called Zeeman Mfg. Co.) from around 1907 until the mid-1920s. At the time of the 1930 U. S. Census Zeeman, like many others in the Depression era, gave his occupation as "Agent Insurance." In 1942 Zeeman registered for the World War II draft, age 64, as an employee of the Acme Safe Co., 139 Grand St.
Durable Fur Co (click for detail): The Durable Fur Co. was not durable. A single listing in the 1923 Manhattan telephone directory (Durable Fur Coat Inc mfg furriers 146 W 26 WATkins-5218) is all I have been able to find on this company.
Schuman Bros (click for detail). The original Schuman brothers were Bernard Schuman (1879-?) and David Schuman (1887-1980). They were joined later by a younger brother, Abraham Schuman (1889-1972). The brothers were natives of Krakow, Poland, and immigrated to the U. S. in the early 1900s. They were in business as Schuman Bros. from 1916 to 1926 and were located here at 146 W. 26th St. from 1923 to 1926. All three brothers registered for the World War I draft (1917-18), Bernard and David as employed at Schuman Bros. and Abraham as a salesman with Royal Textile Co., 318 4th Ave. Bernard may have died some time in the 1930s, but David and Abraham both registered for the World War II draft in 1942 while employed at Schuman and Dublin, a successor to the original Schuman Bros. David Schuman stayed in the fur business in New York until 1970.
These signs can be found in an undated photograph (probably 1930s) by Percy Loomis Sperr (1890-1964) on the New York Public Library's Digital Collections.
< previous || next > index map signs by date signs by name see what's new