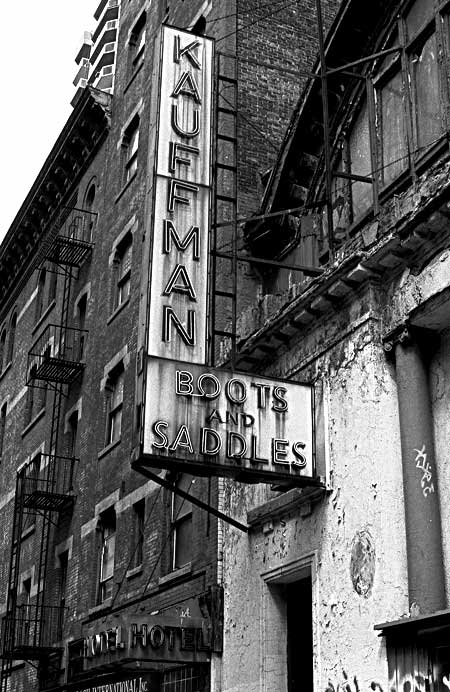 Kauffman, Boots and Saddles, 139-141 E. 24th St. between Lexington and 3rd Aves. (1994)
In 1899/1900 Herman Kauffman, Harness became H. Kauffman's Sons, Harness. Herman Kauffman (born Prussia 1841, immigrated to U. S. 1867?, died ca. 1930) founded the company in the late 1870s. His sons were Isidor Kauffman (1875-1947) and Jacob Kauffman (1876-1958). The first listing in New York city directories appears in Trow, 1880, as "Kauffmann Herman, harness, 23 Canal, h 3 Essex." The Kauffmans are recorded in the U. S. Census of 1880 at 3 Essex St., Manhattan. Herman was "40, born Prussia, Harness Maker," and his sons were Isadore, 5, born New Jersey, and Jacob, 3, born New York. From 1881 to 1888 the business was located at the family home, 3 Essex St. Then from 1889 to 1902 there were several locations on Division St., from 1903 to 1906 at 316 Rivington St., from 1906 to 1919 at 206 Division St., and from 1919 to 1922 at 193 Division St. In the late 1900s they became known as H. Kauffman & Sons Saddlery Co., which was the company that moved to 139 E. 24th St. in 1923. Click here for Kauffman ad from the 1925 Manhattan telephone directory.
Isidor Kauffman's obituary (New York Times 16 Jan. 1947, p. 25) reads in part: "Isidore (Ike) Kauffman of 800 East Seventeenth Street, Brooklyn, president of the H. Kauffman & Sons Saddlery Company, Inc., one of the largest retailers of riding equipment of all sorts in the country, died yesterday at the company's store, 139 East Twenty-fourth Street. Mr. Kauffman had been connected with the firm, which was founded by his father, Herman, in 1875, for his entire career. The firm sells riding equipment and all sorts of other material connected with riding and horses in general and has boasted as customers some of the most prominent families in the nation."
In 1975 a story in the New York Times celebrated the company's 100th anniversary, reporting, "The air at H. Kauffman & Sons was redolent with saddle soap and nostalgia yesterday as Mayor Beame presented the city's Citation of Business Merit to the saddlery that has catered to New York's horsey set for 100 years... Together with the Miller Harness Company, an equally well known and well stocked tack shop and horse haberdashery a few doors down, Kauffman's has made the block on East 24th Street the equine epicenter of New York... When [Kauffman's] was first launched by Herman Kauff-Mann, a German immigrant, in 1875 most of its business was supplying the harnesses for the teams that pulled fire wagons and police carts. During World War I, the firm made saddles and saddle blankets for the Army, and Bernard Kauffman, the founder's grandson, and the current owner, keeps photo albums of those days on hand... In World War II, the Kauffmans bought up hansome [hansom] and victoria carriages, from farmers, remodeled them, and sold them to customers eager to escape the stricture of gas rationing."
Bernard Kauffman (1905-2004), mentioned in the story above, was the son of Isidor Kauffman and constituted the third generation in the business. Bernard Kauffman's son, Charles Kauffman, was head of the business in 1991 when Kauffman's left their 24th St. location. The following was reported in the New York Times (3 March 1991): "One of New York City's oldest specialty retailers, H. Kauffman & Sons Saddlery Company, is continuing a long evolution uptown and upscale. The purveyor of saddles, boots, riding crops and other equestrian goods, which opened in 1875 on Division Street on the Lower East Side, plans to leave its current 24th Street location and open a new store by May 1 at 419 Park Avenue South, at the corner of 29th Street. Charles Kauffman, chief executive of the family-owned retailer, said the move has been prompted in part by the uncertain future of stores [the store's] current location, a two-story Beaux-Arts building at 139 East 24th Street, between Third and Lexington Avenues. Although preservationists have begun a campaign to have it protected by the city as an historic landmark ... it has been slated for demolition by Baruch College, which has its main campus on the same block and wants to expand. Kauffman & Sons has leased space since 1925 in the building, which is currently owned by the L. B. Oil Company of New York. L. B. Oil has agreed to sell it to Baruch..."
The location at 419 Park Avenue South seems to have been short-lived. By 2002 Kauffman & Sons Saddlery was listed in the Manhattan telephone directory at 200 E. 64th St. In Dec. 2008 the successors to Kauffman's were a mail-order and internet business.
An image dated 1928 on the New York Public Library's Digital Collections shows Kauffman's Saddlery at that time. Just west of Kauffman's is the Gramercy Hotel (137 E. 24th St.) and Miller Harness Co. (ground floor, 137 E. 24th St.), a Kauffman competitor. An obituary of Joseph Miller (1917-2011), a second generation owner of Miller Harness Co., was published in the New York Times, 20 June 2011, pg. A24.
The Gramercy Hotel was located at 137 E. 24th St. from 1922 to 1996 (74 years!). The history of the hotel is not entirely clear, but in 1908 an application was filed with the New York City Dept. of Buildings for a 7-story brick and stone hotel building at 135 E. 24th St. The owner was listed as Mrs. Georgie Oddie, and the architect was Geo. M. McCabe. Mrs. Georgie Oddie was probably Georgeanna Oddie (1851-1930), wife of Charles Fisher Oddie (1873-1922). They were a wife and husband team who were directors of the Frick Realty Co., listed in Trow's Copartnership Directory in 1909.
Charles F. Oddie died in 1922, as reported in the New York Tribune, 8 Jan. 1922, "Stamford, Conn., Jan. 7 - Charles F. Oddie, forty-eight years old, a drug importer of Brightwaters, L. I., was killed to-day when he was hit by a train of the New York, New Haven & Hartford Railroad. The accident occurred several hundred feet east of the Riverside station. Mr. Oddie had been staying with his sister, Mrs. Charles W. Parsons, and had taken her to the station to meet the train from New York. It is believed that he was taking a short cut across the tracks to go to Jones Park when he was hit. He is survived by his wife."
Several stories in the New York Times connect the two buildings at 135 and 137 E. 24th St., which apparently operated as a single hotel. 135 E. 24th was on the northeast corner of Lexington Ave. (no. 41 Lexington Ave.). This story about Oddie's successors appeared in the Times, 1 Aug. 1922, p. 37, "The Gramercy Operating Company, Inc., of this city leased for a number of years to Jesse F. Bluestone, also of this city, the Hotel Gramercy, situated at the northeast corner of Twenty-fourth Street and Lexington Avenue. The hotel represents two buildings, namely, one five-story building, 20 by 75, and one 25 by 100, with eighty renting rooms and stores on the ground floor... The Hotel Gramercy for years was operated by its owner, who died a short time ago, at which time the hotel was turned over to the Gramercy Operating Company, Inc., who made the lease to Mr. Bluestone."
The occupants of 137 E. 24th St. were recorded in the 1930 U. S. Census, when only 11 lodgers were present. Among them was Jacob Goldstein, age 53, born Austria, immigrated 1888, whose occupation was "Manager, Hotel." Jacob Goldstein was identified as the owner of the Gramercy Hotel in the New York Times, 26 Oct. 1936, p. 19, "A courageous hotel owner braved threats of two hold-up men at 1 A. M. yesterday and routed them by hurling a chair through the window of the lobby on the second floor of the Gramercy Hotel at Twenty-fourth Street and Lexington Avenue... Jacob Goldstein, the hotel owner, and five guests were seated in the lobby, according to police, when the thugs entered with their hands in their right coat pockets as though concealing weapons. Goldstein and the guests were ordered to line up against a wall. Reardon [one of the hold-up men] took $20 from Goldstein, who sensed that the men did not have weapons. He then hurled the chair through the window and the intruders fled down the stairs to the street."
< previous || next > index map signs by date signs by name see what's new