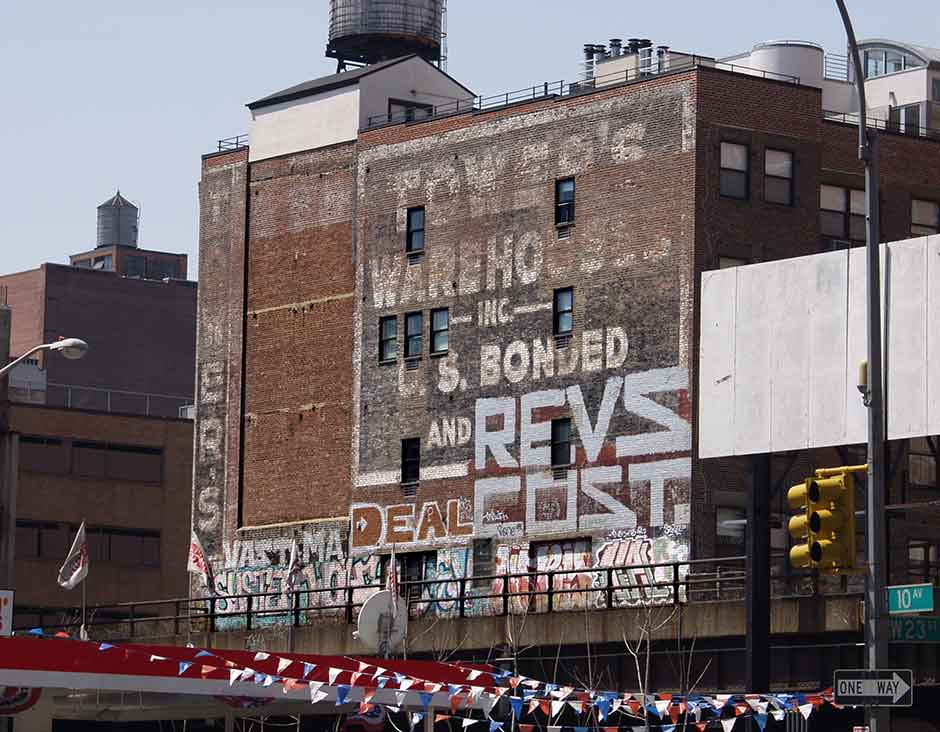 Tower's Warehouses Inc., 511 W. 22nd St., New York, 2003
Deal, Cost, Revs and others have added their graffiti, but the sign for Tower's Warehouses survives in this photo of the east wall of 511 West 22nd St. in 2003. Tower's was a venerable organization, but occupied this building only in the relatively recent years of approximately 1955 to 1971.
Massachusetts birth records indicate that George Nelson Tower (1850-1921) was born either the 6th of March or the 16th of March, 1850, in Worcester, Mass. He first appears in New York directories as the partner of Samuel S. Patterson in the Patterson & Tower storage business at 281 West St. (corner of Watt St.) in 1878. Tower appears in the 1880 U. S. Census, age 30, born Massachusets, living as a boarder at 152 President St., Brooklyn. By this time he seems to be sole owner of the storage business at 281 West St.
Tower appears in both the 1900 and 1910 U. S. Census reports, living at 37 Third Place, Brooklyn. In 1900 he is the proud father of four, including George N. Tower, Jr. age 16. In the 1915 New York State Census Tower lived in East Moriches, Suffolk County, in New York's suburbs. Tower died in 1921, when this brief notice appeared in the New York Times, 2 July 1921, "George N. Tower, President of the Tower Stores, Inc., died Thursday at his home in East Moriches, L. I., after six years of invalidism. He was 71 years old."
By 1897 George N. Tower, Free Stores, added a second storage facility at 459-463 Washington St. Then by 1914 a third was added at 37 Vestry St. The business continued to expand well after George Tower's death. By the mid-1950s the Manhattan telephone directory listed 8 locations, all along the west side of Manhattan around 21st and 22nd streets and further downtown. By the 1970s these numbers began to dwindle. The last (in 1975) was a warehouse on West 18th St.
The full Tower's sign above would read Tower's / Warehouses / Inc / U. S. Bonded / and Free. A wikipedia article explains "A bonded warehouse is a building or other secured area in which dutiable goods may be stored, manipulated, or undergo manufacturing operations without payment of duty." Imported goods in a bonded warehouse are free of customs duty until withdrawn, when a duty would normally be required. It is the warehouse owner or operator who posts a bond with the government to insure payment of the duty.
A nearly identical Tower's sign is visible in an image dated 1931 on the New York Public Library's Digital Collections. This is a photograph by Percy Loomis Sperr, and its location is identified as "Manhattan: 10th Avenue - 21st Street."

< previous || next > index map signs by date signs by name see what's new