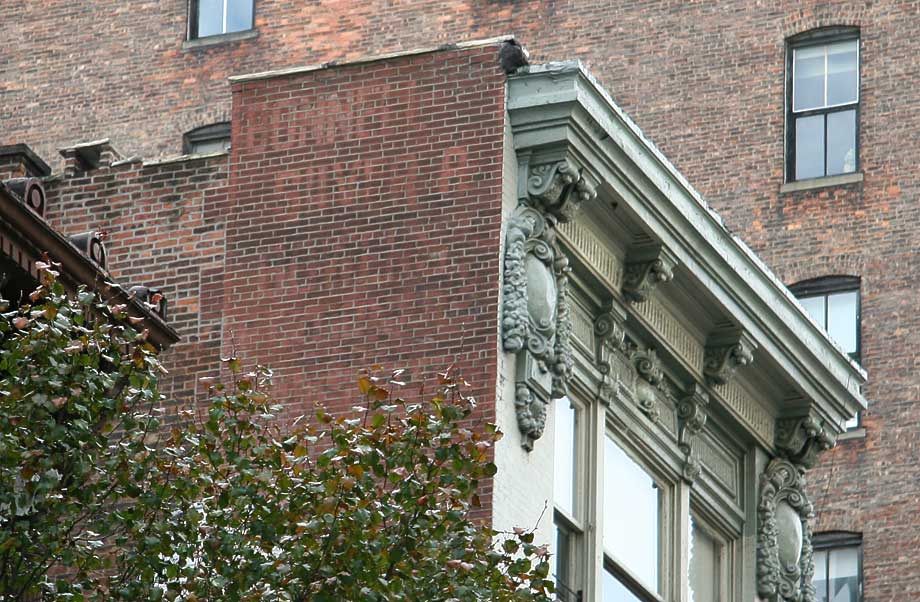 Bonnell, Silver & Bowers, 48 W. 22nd St. (2005)
Bonnell, Silver & Bowers dealt in books and stationery, and they were located here from 1904 to 1910.
Bonnell was Charles Edward Bonnell (ca.1844-1935). He was born in Canada and immigrated to the U. S. in 1865. And he is probably the same Charles E. Bonnell who on his petition for naturalization (City Court, Brooklyn, 8 Oct. 1872) declared his former nationality as "Queen of the United Kingdom of Great Britain & Ireland." In 1881 Charles Bonnell married Fanny Bowen Campbell (1854-1895) in Brooklyn. They had 3 children during their 14 years of marriage, but Bonnell appears in the U. S. Census of 1900 as a widower living with his brother Digby Bonnell at 34 Garden Place (near Joralemon St., Brooklyn Heights). Only one of the 3 children is living with him, George Phillips Parker Bonnell (born Brooklyn, 2 May 1888; died Providence, Rhode Island, Oct. 1976).
Silver was Elmer Bowne Silver (1868-1932). He was born in New Jersey, the son of Horatio Nelson Silver (1839-?), who in 1880 lived in New York (W. 55th St.) and worked as a dispatcher for the "E.R.R." (Erie Railroad?). At the time of his death Elmer Silver was Senior Deacon of the Grand Lodge of Masons of New York State. His obituary in the New York Times (3 Mar. 1932, p. 19) says that Silver "was born in Bordentown, N. J., Feb. 11, 1868 ... Originally intending to become a doctor, Mr. Silver studied for a time at the College of Physicians and Surgeons. He changed his mind and entered the stationery business, with which he was associated the rest of his life. Since 1928 he had been with H. K. Brewer & Co. of Manhattan."
Bowers was either Henry H. Bowers or Henry M. Bowers and has so far remained an elusive subject...
The business started out as Bonnell, Silver & Co. around 1900 a few doors further east at number 24 W. 22d St. The name changed to Bonnell, Silver & Bowers in 1903 and they moved here to 48 W. 22d in 1904. The name reverted to Bonnell, Silver & Co. in 1906, and they went out of business in 1911. Later in life Charles Bonnell (with his second wife, Frederica A. Bonnell) became a manager at the Madison Avenue Book Store, 587 Madison Ave. (at 57th St.). Elmer Silver also remained in the books and stationery business. He appears in the U. S. Census of 1930 living at 4001 207th St., Queens, where his occupation is given as "Manager Stationery."
Charles Bonnell, although born in Canada, descended from a pre-revolutionary New York family. His grandfather had sided with the Loyalists and fled to Canada after the war. He settled in Halifax, Nova Scotia, and became a shipowner. His son was Charles' father, William F. Bonnell (ca.1810-?), who returned to New York in 1864. The family is found in the U. S. Census of 1870, living in Brooklyn: a family of bookkeepers! Not only is William Bonnell a bookkeeper but four of his five sons are bookkeepers: Roger age 30, Digby age 25, Charles age 20, and Henry age 17. A short biographical sketch of Charles' older brother, Anning Digby Bonnell (ca.1845-1910), appears in John Franklin Sprague's New York, the Metropolis: its noted business and professional men, 1893): he "came to New York in 1864 and obtained a place as bookkeeper in the house of George Savory & Co., then engaged in the South American trade. He became one of the partners of that firm in 1869 and on its dissolution in 1872 entered the house of John W. Quincy & Co. as bookkeeper. In 1879 he obtained an interest in the business and two years later was admitted to full partnership."
John W. Quincy & Co. dealt in hardware, pig iron, metal, nails, chrome steel, etc. in New York from around 1838 to 1914. They were located in downtown New York (primarily 98 William St., 111 Nassau St. and 81 Fulton St.).
This is the same building that housed Ida Weber's Millinery (1911-1913). This is the east wall. For Miss Weber's sign see the opposite (west) wall.
< previous || next > index map signs by date signs by name