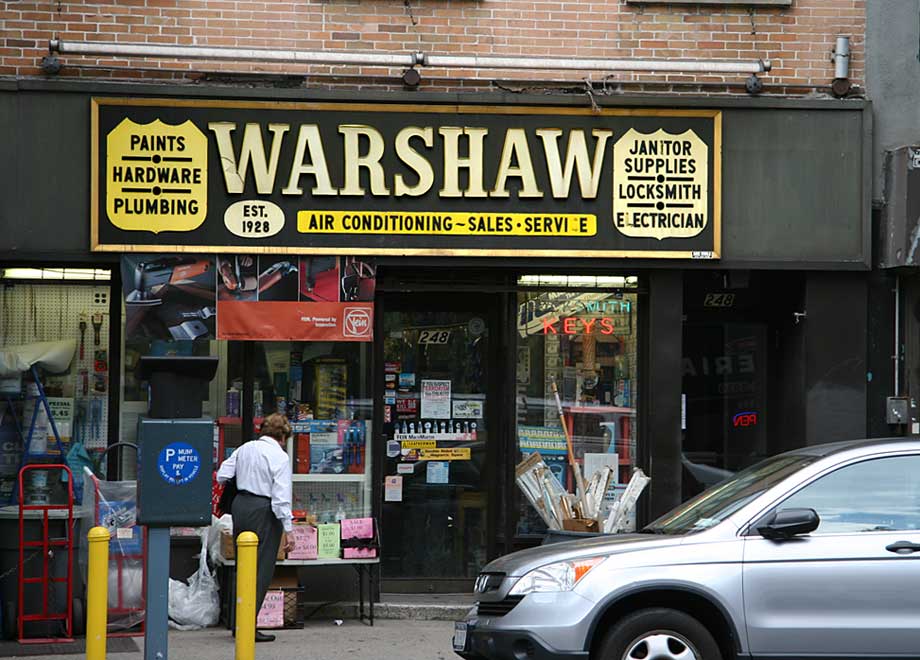 Warshaw Hardware, 248 3rd Ave. near 20th St. (2010)
As of March 2014, Warshaw Hardware was still in business at 248 3rd Ave., New York City. Their website has the following to say on their history, "Three generations of Warshaws have owned and operated this hardware store. Warshaw Hardware was established in 1925 by Louis Warshaw, the late grandfather of current owners Carl and Ed.  Louis was a master electrician at Warshaw Hardware. The store was then passed on to his son Richard Warshaw, also a master electrician, and late father of Carl and Ed. Warshaw Hardware is currently owned and operated by Carl and Ed Warshaw.   Ed is a New York City licensed locksmith. The great grandchildren of Louis are involved in the day to day operations of the business as well, bringing a 4th generation of Warshaws into the store."
The founder was Louis Warshaw (1903-1974), who passed the business on to his son, Richard Warshaw (1928-2012). The Warshaws were long-time residents of Brooklyn. Louis Warshaw appears in the 1925 New York State Census living with his mother Celia (54, born Russia) at 124 South 3rd St., Brooklyn. In the 1930 U. S. Census Louis lived with his wife, Ida, at 337 South 4th St., Brooklyn. Their son, Richard, was two years old. In 1940 their address was 345 South 4th St., Brooklyn, and Richard was now twelve.
The sign says, "Estab. 1928," but the business seems to be just slightly older. The New York City telephone directory in 1925 listed "Warshaw Elec Co 238-3d av GRAmrcy-5627." The original address was 238 Third Avenue, a block downtown from the current location, . They moved to 248 Third Avenue in 1954. They have had the telephone number GR5-5820 (475-5820) since that date.
< previous || next > index map signs by date signs by name see what's new