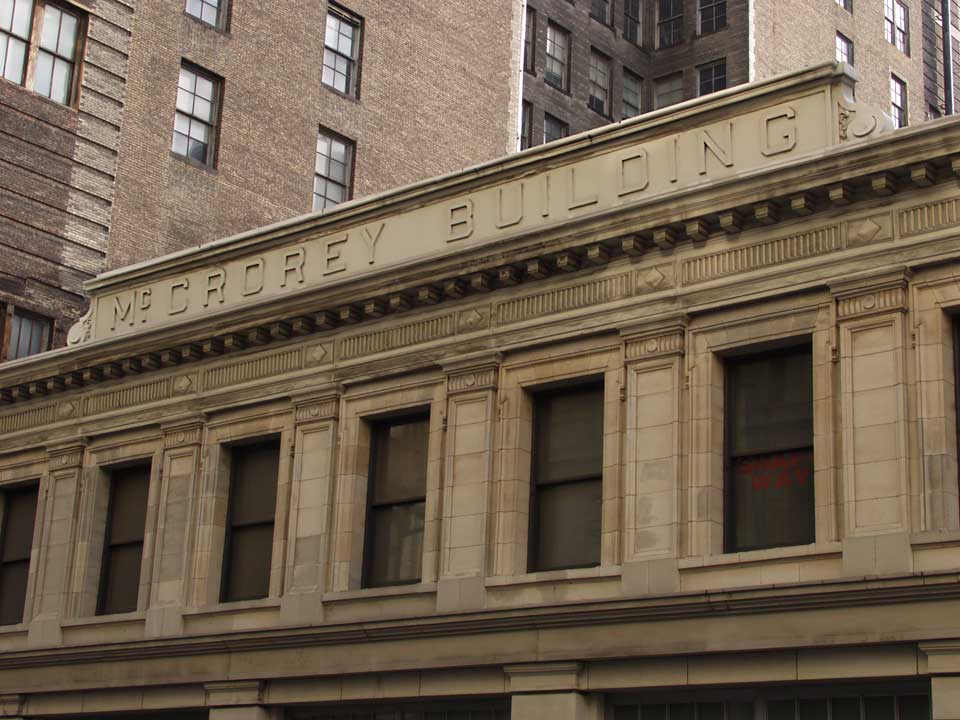 McCrorey Building, 50-58 W. 18 St. (2002)
The McCrorey Building at 50-58 West 18th St. was built in 1911 for David Price as an addition to the Price Building at 604-612 6th Avenue. As described in the Ladies' Mile Historic District New York City Landmarks Commission Designation Report, 1989, "The Mccrorey Building was designed by the architectural firm of Buchman & Fox. Its construction was recorded as an amendment to the New Building Application for the adjacent Price Building to the west at 604-612 Sixth Avenue, in January 1911. It replaced five three-story rowhouses with basements, of which the numbers 50, 52, 54 and 56 West 18th Street were owned by John J. Astor. The Mccrorey Building was joined internally with the Price Building in 1939 to house Knickerbocker Motors, at which time the garage doors were added."
wikimapia.org adds the following information, "Price-McCrorey Building 610 6th Ave: 4-story Beaux-Arts office building completed in 1912. Designed by Buchman & Fox as a store-and-loft building for David Price, it copies the basic form, materials, and some of the details found in the Siegel-Cooper Building, just to the north at 616-632 Sixth Avenue. The adjoining 2-story section on 18th Street, called the McCrorey Building, was initially planned to be part of the Price Building, but the two buildings were not internally connected because of a disagreement between the lessees. In 1949, the two buildings were finally internally joined by Knickerbocker Motors to serve as an auto showroom and service garage."
The McCrorey in McCrorey Building was the J. G. McCrorey chain of 5 & 10 cent stores, founded by John Graham McCrorey (1860-1923) in Scottdale, Pennsylvania, in 1882. Around 1914 directories began to spell McCrorey without the E as McCrory. A wikipedia article explains, "John Graham McCrorey opened his first store in Scottdale, Pennsylvania, in 1882. By 1885, the chain had five stores in Pennsylvania. McCrory was known for his thrifty nature, so much so that he legally dropped the E from his last name so he would not have to pay for extra letters on his store signs."
It is unclear how long McCrorey occupied the McCrorey Building. The only directory listing for this location is in Trow's 1912 New York City Directory, reading, "McCrorey J G & Co novelties, 621 Bway R729, 278 6th av & 52 W 18th." The Price Building at 278 and 280 6th Avenue (later 604-610 6th Avenue, after the 1929(?) renumbering of building on 6th Avenue) were McCrory locations from 1911 to 1932.
Another building inscribed McCrorey Building in its pediment is found in the Bronx, at 2882-2896 3rd Avenue / 411-421 Westchester Avenue. Directories list a McCrory store at this address from 1912 to 1958.
The Museum of the City of New York has several photos of the Bronx McCrorey Building. This one by the Wurts Bros. is dated ca. 1910. This one, showing McCrorey pediments on both 3d Ave. and Westchester Ave., is also dated ca. 1910.
< previous || next > index map signs by date signs by name see what's new