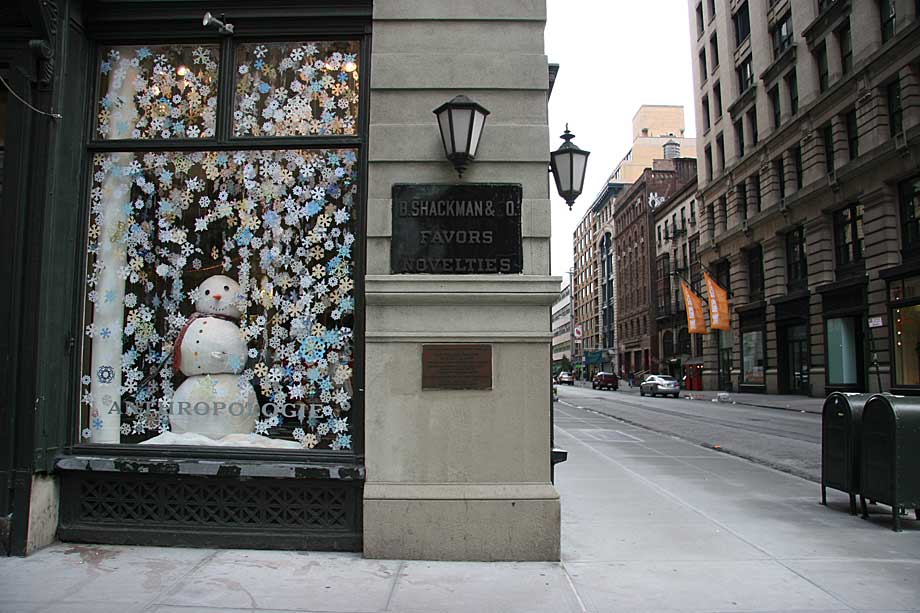 B. Shackman & Co., Favors, Novelties, 85 5th Ave., northeast corner of 16th St. (2007)
"Mrs. Bertha Shackman, 76 years old, of 409 Edgecomb Avenue, died last evening in Knickerbocker Hospital an hour after she had been knocked down by an automobile at Amsterdam Avenue and 136th Street. Michael Macchia, driver of the car, of 2,529 Amsterdam Avenue, was arrested." This is quoted from the New York Times, 6 Sept. 1925. The Bertha Shackman who died in the accident was the proprietor of B. Shackman & Co., in business at 85 5th Ave. from 1971 to 1998. She was the wife of David Shackman, a boot and shoe merchant from Prussia. They appeared in the U. S. Census of 1880, living in Wilkes-Barre, Pennsylvania. David Shackman was 47 years old and Bertha 30. They had six children. Alfred, age 9, was the oldest. The three older children were born in New York. The three younger in Pennsylvania.
In the 1900 census Bertha Shackman, now a widow, age 51, lived at 87 E. 111th St., Manhattan. The three oldest sons, Alfred, 29, Edgar, 25, and Emil, 21, worked in "novelties," which probably meant they were working at B. Shackman, which at that time was located at 50 E. 10th St. Bertha Shackman seems to have taken over the importing / supplies / fancy goods business originally in the name of her husband, David Shackman. David Shackman appeared in Trow's New York City Directory in 1885. Bertha's name was associated with the business in 1889. The original location was 39 W. 4th St.
Notice of David Shackman's death appeared in the New York Times 25 March 1898. Bertha ran the business from that point forward with the help of her sons. Trow 1901 listed Alfred J. Shackman (1870-died between 1920 and Jan. 1930), Bertha Shackman (1849-1925), Edgar Bertram Shackman (1875-died between 1935 and 1941), and Emil M. Shackman at B. Shackman, novelties, 50 E. 10th St.
The "M" in Emil Shackman's name apparently stood for "Mont," and he was listed as Mont Shackman (1880-1966) in various sources, including a passport application dated 14 Nov. 1923. The application stated that Mont Shackman was born 23 Dec. 1880, at Wilkes-Barre, Pennsylvania, that he was traveling to Europe on business for B. Shackman Co., 906 Broadway, N. Y., and that his father David Shackman, now dead, had immigrated from Germany in 1845 and had lived 60 years at Wilkes-Barre and at New York.
From 1913 to 1933 B. Shackman & Co. were located at 906-908 Broadway. As of 2008 an architectural inscription for Shackman still existed at this address.
The trademark "The Shackman Collection" was registered 15 April 1985 by B. Shackman & Co., 85 Fifth Avenue, New York, NY 10003. The services were described as "Wholesale, Retail and Mail Order Sale of Toys, Dolls, Decorations, Bric-A-Brac and Novelties."
This Shackman ad for St. Valentine and Washington's Birthday favors appeared in Scribner's Magazine, Feb. 1907.
This Shackman ad for Christmas favors appeared in Good Housekeeping, Dec. 1908.
This one is for Hallowe'en favors from St. Nicholas, An Illustrated Magazine for Young Folks, Sept. 1912.
A website with the date 2001 called garethkaple.com has the following regarding B. Shackman, "B. Shackman & Co., Inc. Our 2nd Century! We've been in the business of supplying Toys, Cards and Novelties since 1898. Throughout our history we've never forgotten the words of our founder, Bertha Shackman. When asked what made her business so successful she said that she owed her success to three things: Innovation, Quality and Service."
< previous || next > index map signs by date signs by name see what's new